Saudi Arabia
'Securing security in Hajj rituals is a public duty'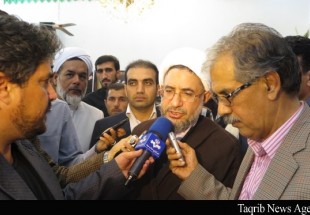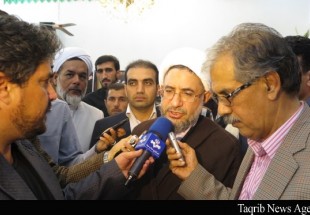 "If Saudi Arabia cannot secure safety of pilgrims during hajj rituals, then they should use other Islamic states' competence for managing the pilgrimage," said Secretary General of the World Forum for Proximity of the Islamic Schools of Thought.
Speaking among reporters and news men in Golistan Province, Secretary General of the World Forum for Proximity of the Islamic Schools of Thought placed stressed on the need for the formation of a Muslim committee to supervise the management of the annual Islamic event adding Saudi regime should allow a joint committee of Muslim countries to oversee the management of annual Hajj pilgrimage, reported Taqrib News Agency (TNA).
Traveled to Golistan Province to addresse a ceremony mounted in Golshan Mosque for Mina victims, the grand Ayatollah also beckoned to some set programs for coming Intl. Islamic unity conference noting, "one of the most important programs determined for this year event is placing an attempt for promoting cooperation among elites in the World of Islam."
President of Iran top unity center underscored that in the conference not only religious thinkers would be invited, but also political, scientific and cultural featured figures would be asked to attend the event.
Ayatollah Araki extend his hope that in the gathering participants achieve roadmaps for setbacks and unsolved problems world of Islam is mired in and in the long run they counter terrorism and extremist groups threatening all Muslim nations.
Secretary General of the World Forum for Proximity of the Islamic Schools of Thought highlighted the key role of media in promoting unity in world of Islam stressing, "enemies exploit this tool to advance their willful objectives, given that thinkers and schools should use it too but for informing Muslims and unmasking the real identity of extremist groups."
Ayatollah Araki pointed the finger of blame on Saudi officials as to deadly stampede during the Hajj pilgrimage rituals in Mina and denounced the monarchy for its imprudence during the religious congregation of Muslims.
The religious thinker stressed the necessity of forming a fact-finding committee to investigate the recent deadly crush during the Hajj rituals in Mina. Secretary General of the World Forum also beckoned to the responsibility of all Muslims with this connection adding proving Pilgrims with security is an obligation upon all Muslims and Saudi rulers should allow them to cooperate in this regard.
The crush happened on September 24 after two large masses of pilgrims fused together. Iran's Hajj and Pilgrimage Organization puts the death toll from the crush at around 4,700 people, including 464 Iranians. Saudi Arabia, however, says some 770 people have been killed.