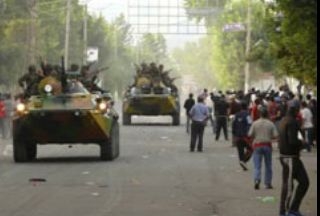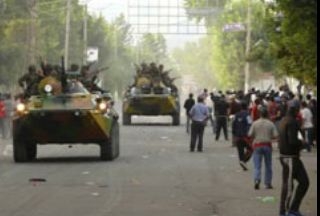 Kyrgyzstan's military has started to clear the security barriers from across the southern city of Osh after more than a week of deadly ethnic clashes there.
Interim government authorities said Sunday that barricades must be removed to help restore normal life in the violence-hit region.
The government says it will extend the state of emergency until June 25 — which was due to be expired on Sunday.
The curfew was initially imposed on June 11, following a wave of deadly clashes between Kyrgyz and Uzbek groups.
The violence, which was mainly centered in the southern cities of Osh and Jalalabad, is said to have claimed more than 190 lives.
Interim leader Roza Otunbayeva says the real number is likely 10 times higher.
The unrest has also forced hundreds of thousands to flee their homes, raising fears of a humanitarian crisis. The clashes in the country's south have forced more than 300,000 people across the border into Uzbekistan.
The United Nations has launched a humanitarian appeal to ease the worsening situation in Kyrgyzstan. UN chief Ban Ki moon says the body has launched a 71-million-dollar appeal to get food, water and medicine to the country.
The inter-ethnic violence has been the worst to hit the country in years.