Syria
Security, Field Situation in Dara'a under Control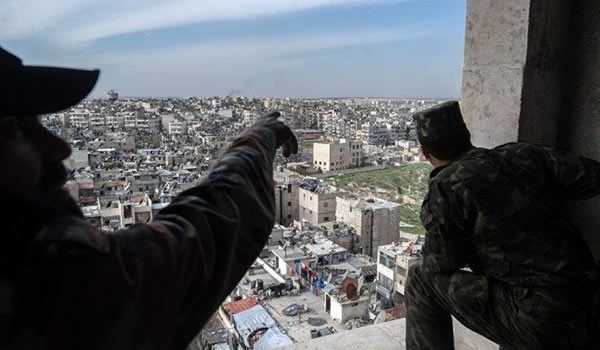 Governor-General of Dara'a province Mohammad Khalid al-Hanous announced that the security has prevailed over the city of Dara'a as the city is under the control of the Syrian army and its allies.
"The security has been established in Dara'a city, and the city is under control," al-Hanous told FNA on Sunday, adding that "public services are also running in the city".
Reiterating that the attempts by al-Nusra (Fatah al-Sham) Front terrorists and their comrades from other groups to occupy Dara'a have failed, he said that supporters of the terrorist groups called on their mercenaries to launch surprise attacks against Dara'a after the recent progress seen on the political scene during Astana talks in a move to push the current peace talks into failure, but to no avail.
"The Syrian army could repel their attacks and inflicted heavy casualties on them while destroying their weapons and equipment," he added.
Al-Hanous said that the Syrian troops and their allies are now chasing and annihilating the terrorists in the neighborhood of al-Manshiyeh.
In a latest development on Saturday, Syrian army troops engaged in fierce clashes with Al-Nusra Front and Ahrar al-Sham in the Southern and Western districts of Dara'a city, killing over 100 terrorists and wounding hundreds more in a sixth day of battle against terrorist groups.
The army soldiers repelled terrorists' operation codenamed "Al-Mawt Va La Al-Mazela" in the neighborhood of al-Manshiyeh for the sixth consecutive day, killing 110 terrorists, including 13 commanders and wounding 300 more.
The army men also targeted terrorists' gatherings and movements in Dara'a al-Balad district and Western countryside of the city, destroying several tanks and militant vehicles.