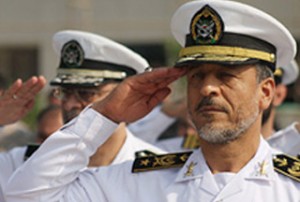 Iranian Rear Admiral Habibollah Sayyari says the establishment of security in the Indian Ocean hinges only on the countries in the region, not foreign forces.
"Foreign presence is not needed in the region," IRNA quoted Sayyari as saying on Friday.
Sayyari, who is currently in Abu-Dhabi to attend the Indian Ocean Naval Symposium (IONS), added that the policy of the Islamic Republic has always been aimed at promoting peace and security in the Persian Gulf and Indian Ocean with the cooperation of regional countries.
"Our top priority is to extend relations with other regional countries to establish security in the Indian Ocean," he noted.
"Iran has held bilateral talks with navy commanders from [various] countries including India, the United Arab Emirates (UAE), Italy, Sri Lanka and other countries on the sidelines of the meeting."
Explaining the warm welcome Iranian representatives received on their first participation in the meeting, he added that "during the summit, many countries voiced their interest in extending cooperation with Iran and emphasized the authority of the Islamic Republic
Stressing the importance of the Indian Ocean in global security, Rear Admiral Sayyari said insecurity along the key shipping routes can jeopardize global economies.
The importance of this region and its impact on the global maritime equation can be understood from the recent spate of attacks on merchant ships and oil tankers passing through the Gulf of Aden.
The two-day summit, which will kick off on May 10, has drawn commanders and senior figures from 33 navies to Abu Dhabi with the main aim of exploring ways to preserve maritime security in the face of the rising tide of piracy and smuggling.