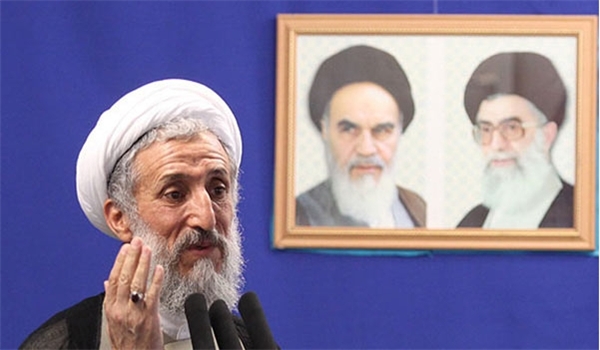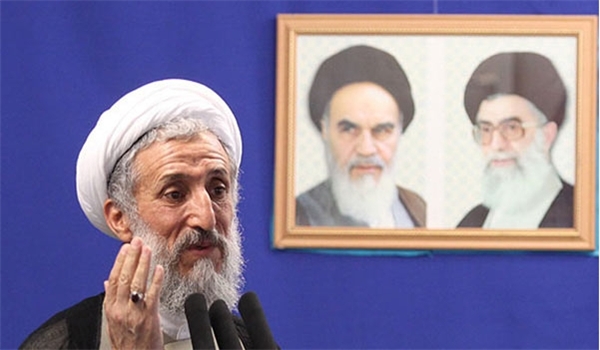 Tehran's Provisional Friday Prayers Leader Hojjatoleslam Kazzem Seddiqi slammed leaders of those regional Arab states who have kept silent on the ongoing bloodshed in the Gaza Strip, and urged Muslims to grow united against the Zionist regime's threats which have endangered peace and tranquility in the Middle-East.
Addressing a large and fervent congregation of the people on Tehran University campus on Friday, Hojjatoleslam Seddiqi said, "The regional countries neither showed Islamism from themselves nor they defended their brothers."
He pointed to the massacre of Gaza people, and said, "Today the most important problem of the Muslim world is Gaza."
Last month, Supreme Leader of the Islamic Revolution Ayatollah Seyed Ali Khamenei strongly condemned the recent Israeli attacks on the Palestinians, and underlined that Palestinians should continue their armed struggle against Tel Aviv.
"The armed resistance by the Palestinians is the only way to confront Israel," Ayatollah Khamenei said addressing a group of Iranian university students in Tehran.
The Iranian Supreme Leader noted that criminal acts of wolfish, child-killer Zionist regime in Gaza have revealed its true nature, and said, "Only way to solve this problem is full annihilation and destruction of the Zionist regime.
He noted that as founder of the Islamic Republic late Imam Khomeini used to say "Israel must be annihilated", but of course the annihilation of Israel, as a true way to resolve the problem, does not mean that the Jews in the region should be evacuated, as for conducting this logical approach there is a practical way that the Islamic Republic has proposed to the international society.
Ayatollah Khamenei said that in accordance with Iran's proposal, which is a favorable method for the world nations, the people who live there and comprise the true natives of that land should in a referendum announce the preferred political system, adding, "In this way the usurper and forged regime will be practically annihilated."
"It would be wrong for anyone to assume that if the Gaza missiles would not have existed, the Zionist regime would have come to terms with the Palestinians," Iran's Supreme Leader said.
He further noted that in the West Bank where the people's only weapons are little stones Israel both kills and humiliates the Palestinian people.
Ayatollah Khamenei said that based on such realities "we believe the West Bank, too, should be armed just like Gaza and those who are interested in the fate of the Palestinians must work in this respect so that the pains and miseries of the Palestinian people will be decreased due to their mighty hands and the weakness of the Zionist enemy."