Iran
Middle East
Senior Cleric: Foreign Plotters Failed to Achieve Goals in Recent Unrests
Tehran's provisional Friday Prayers Leader Ayatollah Seyed Ahmad Khatami blasted certain foreign countries for orchestrating recent violence in Iran and supporting the rioters, and said that their plots were all in vain.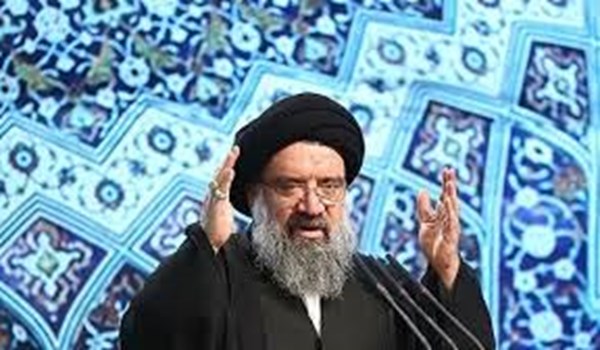 Addressing a large and fervent congregation of the people in Tehran on Friday, Ayatollah Khatami said, "The enemies themselves said that they had planned for three years and trained their men inside and outside the country, while the milking cow of Trump spent a lot in the recent unrests and provided them with its media and did whatever it could, but their plots were foiled.
In relevant remarks on Wednesday, Head of the Islamic Revolution Guard Corps Public Relations Department Brigadier General Ramezan Sharif announced that ringleaders of the recent riots in Iran who had ties with foreign security agencies have been arrested in four large provinces.
The ringleaders of unrests in four provinces of Iran, including Alborz, Fars, Tehran and Khuzestan, have been arrested, General Sharif said, addressing a gathering in the Northern province of Gilan.
He noted that these arrests contributed a lot to riots to abate, adding that these individuals had links with foreign security services.
General Sharif said the enemies employed thugs to create unrest after the failure of sanctions against Iran.
The US and its proxies have gained nothing 18 months after the imposition of fresh sanctions on the Iranian nation, the general said, adding that the Americans have formally announced support for the riots and recent acts of vandalism and insecurity in Iran.
On Wednesday, Iranian President Hassan Rouhani praised people for keeping distance from the rioters who damaged public and private properties, and said the recent violence in Iran was organized by the US, Israel and certain reactionary regimes in the region.
"The number of people who had taken to the streets was clear, and there were only a few hooligans were among them; but the hooligans were well organized and armed, acting on behalf of the regional reactionaries, the Zionists and Americans," Rouhani said, addressing a cabinet meeting in Tehran.
"As the Leader said, our people have foiled the enemies' plots in face of different incidents, and they became victorious in the recent plots that the enemies had hatched," he added.
Riots by a small number who had taken advantage of legitimate public protests against the government's gas price hike plan in Iran were directed at sowing chaos through targeted attacks on public and private properties, forcing law enforcement to step in to stop saboteurs.
Early estimates of an intelligence body showed that a sum of nearly 87,000 protesters and rioters had taken part in protest rallies and gatherings since Friday night, mostly (over 93%) men. A large number of protesters had only been present in the gathering centers and avoided joining the rioters in sabotage attacks on public and private properties.
"The identical methods of the main core of violent rioters discloses that they are fully trained individuals who have been prepared and looking forward for the situation to rise, unlike most people who have been taken off guard by the sudden hike in gas price," the report said.
The report showed that gatherings have been comprised of 50 to 1,500 people held in 100 regions of the country out of a number of 1,080 major towns and cities. The report says violent raids and damage inflicted on properties has been larger than what happened in February 2018 unrests.
Most cases of damage to properties had happened in Khuzestan, Tehran, Fars and Kerman provinces. The report says most casualties have resulted from armed outlaws' attacks on oil storage and military centers, adding that a number of police and popular forces have been martyred in these attacks.
Nearly 1,000 people were arrested across the country while over 100 banks and 57 big stores were set on fire or plundered in just one province.
The Iranian intelligence ministry announced in a statement on Sunday that it had identified several rioters who misused the recent protest rallies against the gasoline price hikes to destroy public and private properties.
"The main culprits behind the riots in the past two days have been identified and proper measures are being adopted and the honorable nation will be informed about its result later," the statement said.