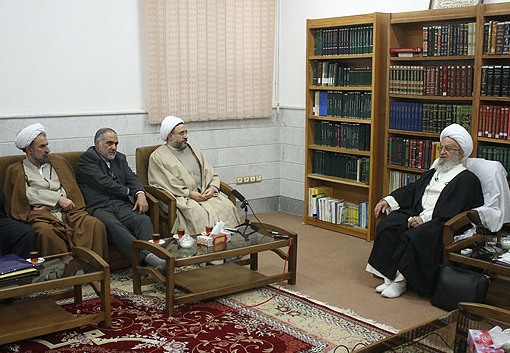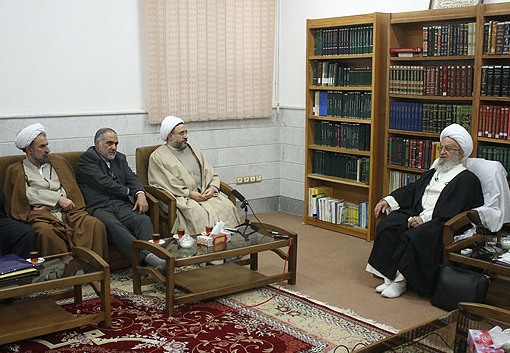 Grand Ayatollah Nasser Makarem Shirazi, renowned Iranian jurisprudent and professor at Qom Seminary met with the Secretary General and executive team of the 27th International Islamic Unity Conference and called for more efforts to increase solidarity among Muslims, reported Taqrib News Agency (TNA).
He said," Efforts have to be increased for a day that followers of Islamic denominations live in full coexistence and fraternity." and warned against disagreements assimilated to destroying lightning and earthquake in holy Qur'an."
Top cleric said the reason for increasing invasion against Shia Muslims at the present era is the great power this Islamic denomination has achieved.
He slammed desecration of sanctities belonging to other denominations and noted, "Although there have been fatwas against desecration of other schools of thought, there are cases of violating the religious decree."
According to the cleric enemies are seriously pursuing widening the gap between Islamic denominations because they have failed in hatching other plots against Muslims."
Grand Ayatollah Mohsen Araki, secretary General of the World Forum for Proximity of Islamic Schools of Thought provided the schedule for the three-day International Islamic Unity Conference and festival of Prophet Mohammad (PBUH) which are due to be held in Tehran and expressed hope that Shia and Sunni figures who are due to attend the annual event will make decisions to confront counter-proximity moves.
He announced that a committee of 40 renowned Muslim scholars will discuss the ways to alleviate disagreements between fighting Muslim groups in critical regions.