Iraq
Senior Cleric: ISIL Attacks in Iraq New Western Plot to Distract Attention from Israel's Atrocities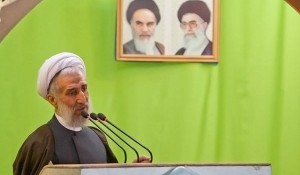 Tehran's Provisional Friday Prayers Leader Hojjatoleslam Kazzem Seddiqi said the recent attacks by the terrorist Islamic State of Iraq and the Levant (ISIL) in Iraq are a new plot by the West, specially US, to distract the international community's attention from Israel's atrocities in the Middle East.
Addressing a large and fervent congregation of the people on Tehran University campus on Friday, Hojjatoleslam Seddiqi said, "The enemy wants to deprive the Muslim World of unity in a bid to make them forget Israel's danger."
He pointed to the ISIL's crimes in Iraq and Syria, and said, "Nothing is better for the enemies of Islam to distort the image of Islam by a group who call themselves Muslim, but their deed is totally different."
In similar remarks last week, another provisional Friday Prayers Leader of Tehran, Ayatollah Mohammad Emami Kashani, also called on the Iraqi people to become united against the wave of terrorist attacks by the foreign-backed Al-Qaeda terrorists.
"The Iraqi nation should be integrated against this Takfiri group," Ayatollah Emami Kashani said.
He noted that the Iraqi people can the ISIL as the Syrian nation did.
On Wednesday, Iranian President Hassan Rouhani underlined Tehran's preparedness to help Iraq in fighting terrorism, but meantime, dismissed deployment of any Iranian troops in the crisis-hit country.
"We declare this to all the superpowers, mercenaries, murderers and terrorists that the great Iranian nation will spare no efforts to protect their holy sites," President Rouhani addressing a large gathering of local people in Lorestan province.
Yet, the Iranian president reiterated that Iran will not give any military assistance to Iraq.