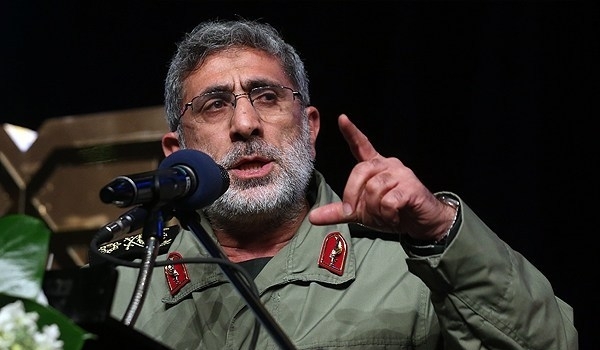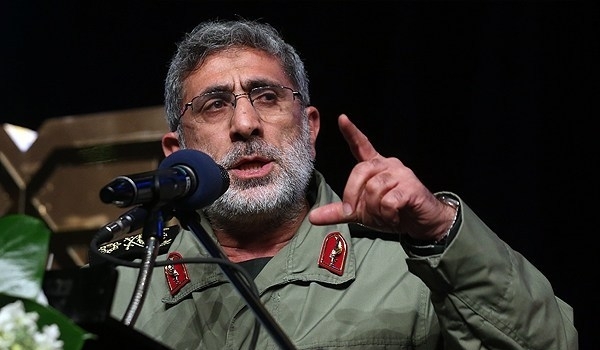 Lieutenant Commander of the Islamic Revolution Guards Corps (IRGC) Quds Force Brigadier General Esmayeel Qa'ani blasted Saudi Arabia for taking assistance from Israel in the war against the innocent Yemeni people and children.
"What is the meaning of the Israeli fighter jets' presence in Yemen's airspace?" General Qa'ani said, addressing a forum in Tehran on Monday.
"This shows the abasement of the Saudi leaders who have disgraced their own people too," he added.
General Qa'ani also lashed out at certain Arab regional states for attempts to normalize ties with Israel.
Close ties between the Israeli and Saudi regimes in the latter's war against Yemen had also been revealed in 2016.
Based on the documents, the Saudi defense minister has recently written a letter to the commander of border guards in the Southern parts of the kingdom decreeing that security in the region should be handled by an Israeli company. The Israeli company has been mandated to deal with cross border retaliatory attacks carried out by Yemen's Ansarullah, al-Waght news website reported.
A report by Yemeni Najm al-Thaqeb website revealed that, following the failure of Saudi-backed forces in their attack on Yemen and after it became apparent that some Saudi frontier regions might fall into Yemeni forces and Ansarullah fighters' hands, the Saudi regime contracted an Israeli company known as Al Majal Group to oversee security in the Southern region. The Israeli company has already obtained 45 million US dollars to plant landmines and put barriers in the border region.
This is not the first time that Saudi Arabia is using services of the Israeli top security company.
Since 2010, the Israeli Al Majal Group has taken charge of security during the mandatory Muslim pilgrimage to Mecca, or Hajj. It was under the watch of the Israeli security company that over 4,000 Muslim pilgrims were killed during last year's Hajj following a deadly stampede in Mina, the worst in history.
Al Majal G4S is a private Israeli security contractor that has also been implicated in enabling the torture of administrative detainees in Palestine, including children, according to the Boycott, Divestment, and Sanctions (BDS) activist Zaid Shuaibi.
The BDS campaign has not been sitting idly by. In October 2014, the campaign sent a clear message to the Saudi government, urging it to terminate the contract with the company that happens to provide equipment and security services to protect Israeli settlements, occupation checkpoints and police facilities. As expected, the Saudi government not only ignored the calls but also handed the Israeli company more power in handling security in the kingdom.
Earlier, local sources in the Asir region located in the South of Saudi Arabia had also confirmed that an Israeli Air Force plane transported weapons, missiles and other equipment to Khamis Mushait air base in Asir to support the Saudi Alliance in aggression against Yemen.