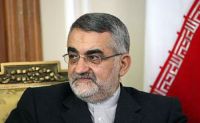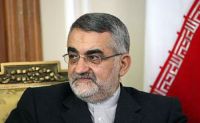 Head of the Iranian Parliament's (Majlis) National Security and Foreign Policy Commission Alaeddin Boroujerdi urged Pakistan on Sunday to act according to a joint security pact signed between the two countries and follow up the case of massacre of Iranian border guards by armed bandits who fled to the soil of Pakistan on October 25.
Speaking to IRNA, the MP stressed the need for Islamabad to confront armed outlaws in border areas.
He made the remarks while commenting on the massacre of 14 Iranian border guards and injuring six others by terrorist groups on Friday on the zero border point in the city of Saravan in the southeastern province of Sistan and Baluchestan.
The terrorists have later fled to Pakistan.
Boroujerdi stressed if Pakistan felt it is incapable of taking necessary measures to confront the bandits, it should allow the Iranian forces to enter the soil of Pakistan and do so.
He added that the National Security and Foreign Policy Commission of Majlis would hold a session on Monday to examine the Saravan incident.