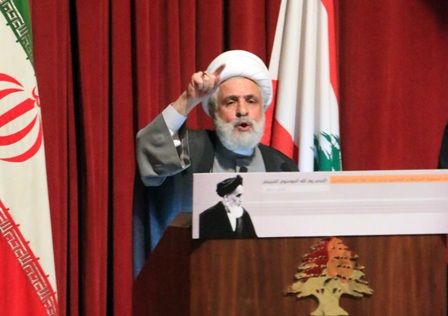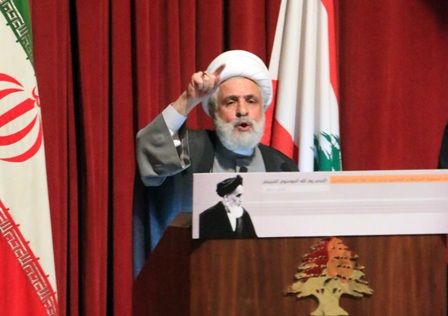 A senior Hezbollah official said here on Friday that the global arrogance and the Zionist and takfiri terrorism are afraid of the late Imam Khomeini's sons who have presented real Islam to the world and call for Muslims unity.
Sheikh Naeem Qassem, the deputy secretary general of Lebanon's resistance movement Hezbollah, made the marks at the 27th anniversary of the sad demise of the Father of the Islamic Revolution Imam Khomeini in Beirut.
Several religious, political, military, security and media figures, various groups of people, ambassadors and diplomats of various countries and representatives of Palestinian resistance groups were present in the gathering which was organized by Irnain Embassy in Beirut.
Sheikh Qassem said late Imam Khomeini managed to create enormous changes in the region.
He added that at present the resistance group has created a new situation which has endangered the Zionist regime in a way that Tel Aviv is concerned over its future and existence.
'Iran is a free country and has its own position,' senior Hezbollah official said, adding that several countries are in queue to hold talks and amend cooperation with Iran.
'The Islamic Republic of Iran plays a pivotal role fostering security in the region,' he said.
Commenting on Saudi Arabia plots to fan the flames of political tensions in the region, Sheikh Qassem said if Riyadh does not stop its measures, it would face many difficulties that could not be stopped except by the fall of the Saudis .
Iranians marked the 27th anniversary of the sad demise of the late Imam at his mausoleum, southern Tehran on Friday.
The occasion is annually observed by Iranians in a bid to renew allegiance to the Founder of the Islamic Republic.
It is also marked in other countries by both Iranians and non-Iranians.