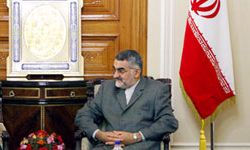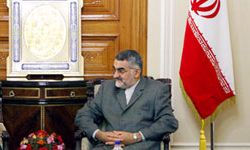 Enemies intend to damage the diplomatic relations between Tehran and Islamabad, chairman of the Iranian parliament's National Security and Foreign Policy warned, and said the Iranian legislature is strongly resolved to bolster bilateral ties and cooperation with Pakistan.
Alaeddin Boroujerdi made the remarks in a meeting with Sindh's Minister for Relief and Natural Disasters Halim Sheikh Adel in Tehran on Sunday.
"Enemies of the two countries' relations are trying to ruin the Tehran-Islamabad exchanges, specially in industrial and scientific fields," Boroujerdi said.
He urged the two countries to do their best to prevent harm to their bilateral ties.
Sheikh Adel, for his part, said that the Pakistani nation and high-ranking officials insist on the further enhancement of ties with Iran in all the political, economic and cultural spheres.
Pakistan's local media also warned on Sunday that Saudi Arabia may have invited Hina Rabbani Khar over for talks on offers more attractive than those of the Iranians as part of their efforts to undermine the strong relations between Tehran and Islamabad.
The invitation to Riyadh came after Iran offered Pakistan crude oil supply of as much as 100,000 barrels on deferred payment, besides some major financial assistance in the Iran-Pakistan gas pipeline.
Diplomatic sources suggest that Saudi Arabia is trying to convince Islamabad to give up the IPL project and turn down the new offer of crude oil imports from Iran. This, they say, is a US plot as Washington is adamant on building more pressure on Iran.
Meanwhile, it's unlikely for Rabbani to accept these demands as Pakistan is going through a serious fuel and energy crisis.
On the other hand, Rabbani has said that ties between Iran and Pakistan have remarkably improved.
"President Asif Ali Zardari will visit Iran soon. There is no pressure as it's in the planning stage. The work on gas pipeline is going on and In Shaa Allah (God willing) by 2014 the project will be completed and activated."
Officials say that Pakistan would benefit from the IPL project so it is important to carry on. As far as crude oil import are concerned, Pakistan lacks the expertise to refine raw oil. Therefore, it's seeking to set up a refinery in Gawadar with its Iranian partners. The move would eventually help Pakistan fulfill its fuel needs on reasonable costs.
Officials in Islamabad believe that Pakistan should take its national interest into consideration first. They want Islamabad to go ahead with Iran's offer of importing crude oil at a time crisis and complete the gas pipeline.
Earlier this month, Pakistan's Prime Minister Raja Pervez Ashraf said that Tehran and Islamabad should work on a coordinated and comprehensive response to common problems such as terrorism and extremism.
Ashraf made the remarks in a meeting with Chairman Boroujerdi in Islamabad.
"Terrorism and extremism are our common enemies and we should overcome such challenges through cooperation and unity," Ashraf said.
The US has been training and supporting anti-Iran terrorist groups in the Eastern and Western borders of the country in the last three decades.
Iran has taken new security measures in its bordering provinces after several attacks by terrorists and drug traffickers on its Eastern and Western borders.