Europe
Iran
Middle East
Senior MP: Iran to Continue Modification of N. Deal Undertakings
A senior member of the Iranian parliament's National Security and Foreign Policy Commission stressed that his country will continue scaling down nuclear deal undertakings as long as the Europeans remain indifferent to their commitments.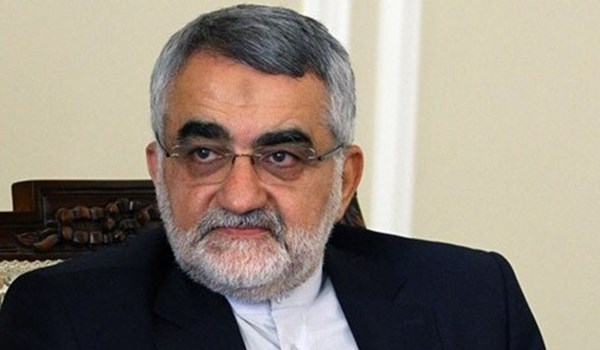 "The Europeans should know that modification of Iran's nuclear undertakings is performed within the framework of the nuclear deal and this path will continue," Alaeddin Boroujerdi said on Wednesday.
He added that to reverse Iran's modification of its nuclear deal undertakings, sanctions against the country should be removed and the Europeans should implement their nuclear deal undertakings.
"The Islamic Republic of Iran gave over one year of opportunity to the Europeans to act upon their undertakings within the framework of the nuclear deal and INSTEX (Instrument in Support of Trade Exchanges) but they showed no determination to implement their promises," Boroujerdi said.
In May 2018, US President Donald Trump unilaterally pulled his country out of the international deal, in defiance of global criticism, and later re-imposed the sanctions that had been lifted against Tehran as part of the agreement.
In response to the move, Tehran has so far rowed back on its nuclear commitments four times in compliance with Articles 26 and 36 of the nuclear deal, but stressed that its retaliatory measures will be reversible as soon as Europe finds practical ways to shield the mutual trade from the sanctions.
Last Monday, Iranian Foreign Minister Mohammad Javad Zarif reiterated Tehran's dissatisfaction with the European nations' implementation of its nuclear deal undertakings.
"Certainly, we are dissatisfied with the extent of the EU and its members' commitment in compliance with the nuclear deal," Zarif told reporters in Istanbul.
He added that Tehran's dissatisfaction has been clearly voiced in the recent a joint commission meeting of the signatories to the Joint Comprehensive Plan of Action in Vienna by Iran, Russia and China.
Zarif underlined that during the Vienna meeting, Iran's readiness to reverse its measures to modify nuclear deal undertakings has also been discussed.
He described accession of 6 new EU members to the INSTEX to facilitate trade with Iran as positive, and expressed the hope that the mechanism would be put into operation.