Syria
Senior Nusra Commander(!) in Syria Killed in Infighting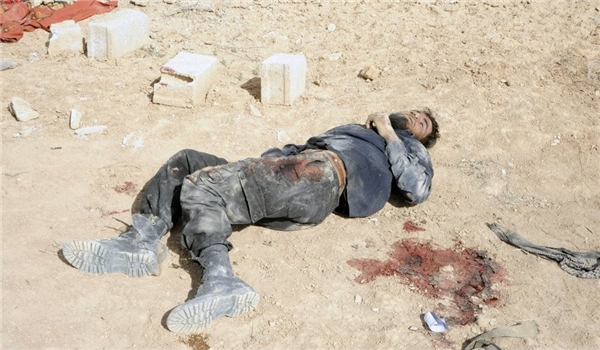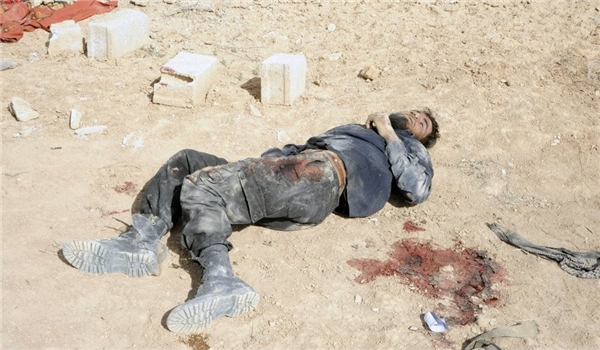 A senior commander of al-Nusra Front was killed in clashes with rivals from the ISIL terrorist group near Zabadani city in Damascus province.
One of the field commanders of al-Nusra Front, Ismail Mouzafar, was killed in clashes with ISIL in Serghaya near Zabadani city, the Arabic-language al-Ahed news website said Monday.
ISIL has engaged in heavy clashes with rival militants in several provinces across Syria as rifts are widening among the foreign-backed militants fighting against the Damascus government.
Yesterday, fierce fighting erupted between ISIL and other terrorists groups in Dalha village in the Northern countryside of Aleppo, the Arabic-language al-Mayadeen television said.
Earlier on Monday, reports said the ISIL terrorist group launched heavy mortar attacks on the strongholds of other militant groups in the Northern part of Aleppo province.
After the continued victories of the pro-government forces against the militant groups, infighting has intensified among the terrorists groups in recent weeks.
Local sources said the ISIL's mortar shelling was conducted in Marea town some 25 kilometers North of Aleppo city.
There have been no reports on the identity of the targets and their possible casualties.
Sources said earlier on Monday that the al-Qaeda-affiliated al-Nusra Front has declared war on the ISIL militants after a dispute over the latter's prisoner exchange with the Lebanese Army.
Prior to this turmoil along the border of Lebanon and Syria in Qalamoun mountains, there have been similar cases of fight between them in Northern Syria that included a war in Northern Aleppo and Raqqa.
On Wednesday, heavy fighting erupted between two rival Takfiri terrorist groups in Idlib province, leaving casualties on both sides.
A large group of terrorists were killed in exchange of fire between al-Nusra Front and Ahrar al-Sham terrorist groups in al-Rami village in Idlib countryside.
Earlier in November, fierce clashes also took pace between rival terrorist groups in the province of Dara'a, leaving scores of militants dead and injured as rifts widened between the terrorists after the Syrian army continued advance in more militant-held territories.
Clashes erupted between terrorists of al-Nusra Front and the so-called "Liwa Shuhadaa al-Yarmouk" terrorist group in al-Allan area in the Western countryside of Dara'a after al-Nusra announced on its Twitter account on Sunday that it had killed the chief of Liwa Shuhadaa al-Yarmouk.
Dozens of terrorists from both sides were killed or injured in the clashes.
Abu Ali al-Breidi, the leader of Liwa Shuhadaa al-Yarmouk, was reportedly killed in a suicide attack by al-Nusra Front that targeted one of the terrorist group's positions.
Terrorist groups' confirmed infighting between the Takfiri terrorist groups on their social media pages, and said that members of Liwa Shuhadaa al-Yarmouk killed around 50 al-Nusra Front leaders in less than one month, and killed and abducted 300 other al-Nusra Front members.