Syria
Senior Terrorist Commander Killed in Hama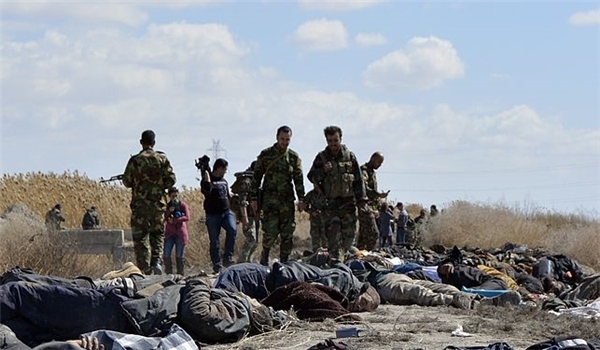 The Syrian army killed at least 14 terrorists, including a senior commander, in military operations in Hama province, where it has expanded the combat zone and lines of engagement.
The army destroyed positions of the so-called "al-Izza Battalions and Brigades Coalition" in Al-Lataminah town to the North of Hama city.
At least 14 terrorists were killed during the attack.
Mohamed Ali al-Raadoun, a ringleader of a terrorist group, was identified among the dead.
The army also destroyed four vehicles in the operation.
Also on Wednesday, the Russian warplanes conducted 5 air raids on ISIL training camp on Bil'as Mountain East of Hama, killing at least 15 Takfiri militants.
Six vehicles of the terrorists were also destroyed.
The Syrian army and the National Defense Forces also killed and wounded a group of Jeish al-Fateh members as they stormed the terrorists' positions near Morek in Hama province on Wednesday.
Militants' tank and weapons were also seized by the Syrian forces.