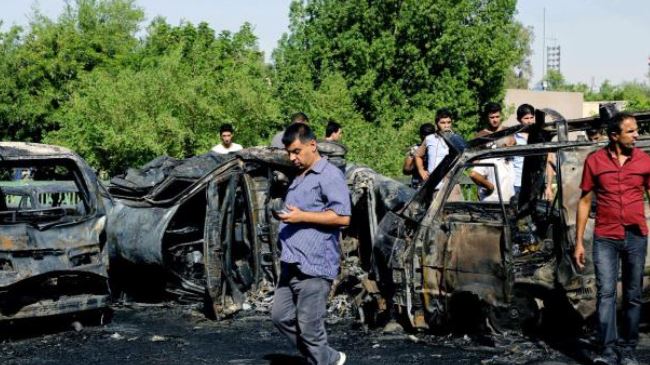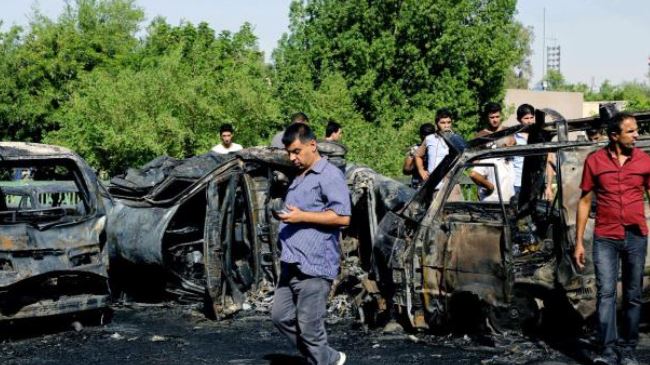 A chain of car bomb explosions has claimed the lives of at least 19 people and injured dozens more across Iraq's capital city of Baghdad.
Iraqi security officials say the serial blasts occurred minutes apart in a Shia neighborhood in southeastern Baghdad on Wednesday.
Sources say the attacks started when an explosive-laden car rammed into a checkpoint manned by traffic police in the volatile area. At least five people were killed in the first deadly attack.
Seconds later, a car bomb explosion at nearby markets killed 14 people.
Sources say at least three traffic police officers are among the victims.
Medical sources say more than 30 people have been also wounded in the terrorist attacks.
Several cars and nearby building were damaged in two blasts.
No group has claimed responsibility for the bombing, but the attack bore the hallmarks of Takfiri militants fighting the Iraqi government.
The blasts come as US Secretary of State John Kerry arrived in Iraq on his first visit after the formation of a new Iraqi government. He made an unannounced visit to Baghdad at the start of a Middle East tour aimed at building support for the fight against the ISIL terrorist group.
Also on Wednesday, the Iraqi army launched a major offensive against ISIL Takfiri terrorists in the south of Iraq's Salahuddin Province.
The major operation comes as the Iraqi army has recently been making advances in al-Dhuluiya and Khazraj areas in the province.
Reports say dozens of Takfiri terrorists have been killed or arrested over the past 24 hours.
The ISIL terrorists have committed heinous crimes and threatened all communities, including Shias, Sunnis, Kurds, Christians and Izadi Kurds, during their advances in Iraq.
The terrorist group has links with Saudi intelligence and is believed to be indirectly supported by the Israeli regime.