Palestine
Serious deterioration in Khader Adnan's health condition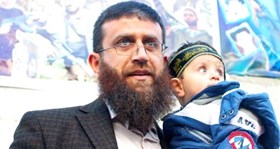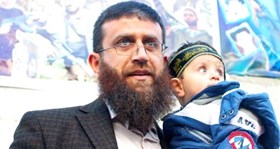 The health situation of the prisoner Khader Adnan has seriously deteriorated as he continues his hunger strike for 45 consecutive days protesting his administrative detention, rights group said.
Head of the Palestinian Prisoners Society (PPS) Jawad Boulos said that Israeli officials asked him late Thursday to urgently come to Assaf Harofeh Hospital as Adana's health situation has sharply deteriorated.
Adnan was vomiting along the visit hours and unable to speak loudly, while his right hand is still tied to the bed, Boulos said. He lost many of his weight.
Israeli authorities suggested to "improve Adnan's detention conditions" in Assaf Harofeh Hospital if he accepts to conduct medical tests. However, Adnan refused the Israeli offer and continued to only drink water without taking any vitamins.
Along the past few hours, a number of Israeli figures have visited Adnan in the hospital including head of Israeli Medical Association and members of Physicians for Human Rights.
In the same context, Jihad-affiliated prisoners held in Nafha prison affirmed that an Israeli senior official informed them that Khader Adnan suffers significant health deterioration as he refuses to conduct any medical tests or to take vitamins.
An Israeli medical delegation has visited Adnan in an attempt to "convince" him to undergo the medical tests, however he refused, the prisoners quoted the Israeli official as saying.
37-year-old Palestinian detainee Khader Adnan Musa has been on an open-ended hunger-strike for the 45th day running in protest at being held administratively, with neither charge nor trial, in the Israeli occupation jails.
Adnan, a father of six children, was arrested near Jenin in July during an Israeli arrest campaign across the West Bank. He is one of many former prisoners re-arrested and incarcerated for unclear reasons.
Along the same line, the newly released Lina Khatib said that Palestinian female prisoners suffer catastrophic detention conditions as they are subjected to tough torture and ill-treatment at the hands of Israeli jailers.
Palestinian female prisoners are subjected to human rights violations, she stressed.
Khatib also pointed to the suffering they face while being transferred via "Bosta", a transport vehicle in which the prisoner is shackled to a metal chair in the back.
The Bosta is not air conditioned, does not have open windows, and temperature inside it reaches extremely high levels. It is a particularly dangerous experience for older or ill prisoners.
Khatib was released last week from Israeli jails after being arrested on December 13, 2014 for participating in a peaceful march outside Ofer prison.