Syria
Several Civilians Killed, Injured in Attacks by US, SDF in Deir Ezzur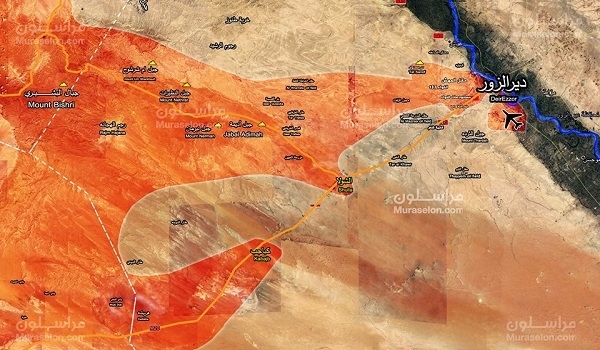 The US and Syrian Democratic Forces (SDF) attacked the residents of two towns in Eastern Deir Ezzur after they held protest rallies and hoisted the Syrian flag, demanding expulsion of the occupying forces.
A group of SDF fighters backed by the US-led coalition air force attacked civilians in two towns of Abu al-Nitel and al-Namileh in Eastern Deir Ezzur who while hoisting the Syrian Army were calling for SDF and the US occupying forces to be expelled from Syria, local sources in Deir Ezzur said.
The sources noted that two civilians were killed and wounded in SDF and US attack, and said that the entire regions under the SDF control in Hasaka and Deir Ezzur provinces were the scenes of popular protests against the presence of occupying forces there.
Meantime, the Arabic-language al-Khabour News Website reported that the SDF in Hasaka province prevented civilians from leaving the regions under their control for safe regions controlled by the Syrian Army.
The SDF fighters also asked for the payment of a sum of about 100,000 Syrian liras from any vehicle trying to leave the SDF-controlled region for Hasaka.
The Arabic-language website of the Russian Sputnik news agency, meantime, reported that a military convoy of the US-backed militants came under attack by unknown assailants in the town of Abu Suseh in the Northern part of Raqqa city which killed four US-backed militants and injured nine others and also destroyed four of their military vehicles.
In a relevant development in early May, residents of Eastern Deir Ezzur had called on the Syrian government to return to the Eastern parts of the country to expel occupiers from the region as tensions had heightened between the SDF and the civilians.
The Arabic-language al-Watan newspaper reported that residents of different parts of Eastern Deir Ezzur had raised the demand in several contacts with the paper.
It underlined that residents of towns and villages of Deir Ezzur were highly dissatisfied with measures adopted by the occupying US forces and the SDF, including detentions, torture of civilians and seizure of the civilian properties.
The newspaper said that the occupied areas in Hasaka and Deir Ezzur did not enjoy even the minimum living standards, including electricity, adding that a large number of residents of the towns and villages in Eastern Deir Ezzur had been transferred to the Syrian army-controlled areas.
Meantime, residents of tens of towns and villages in Eastern Deir Ezzur had staged rallies in late May against the SDF's vis-à-vis civilians and their hoarding of fuel and closed the roads, demanding their withdrawal from the region.