Syria
Several Militants Hand over Weapons to Syrian Army in Idlib for First Time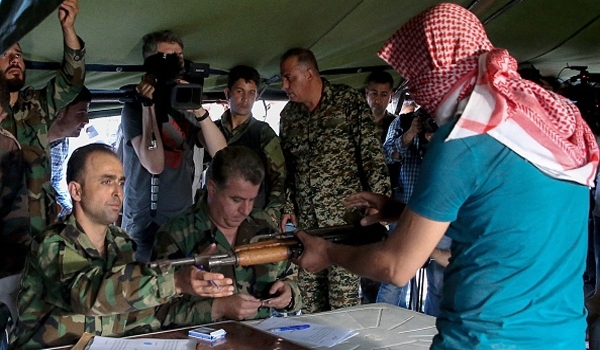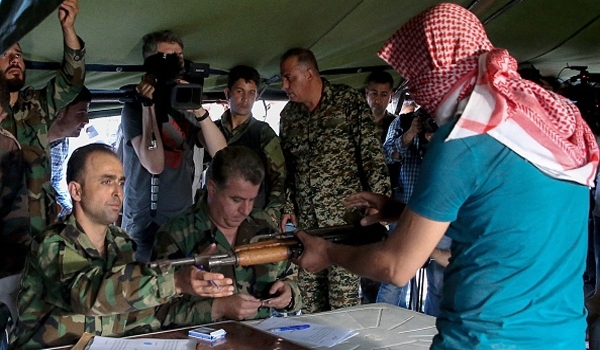 Informed sources in Northwestern Syria confirmed that several militants have handed their weapons over to the Syrian Army troops in Idlib for the first time and left their positions for government-controlled regions in Hama province.
The sources said that a sum of 11 gunmen have surrendered to the Syrian authorities in Northern Idlib and left the region for government-controlled city of Hama.
The gunmen, who were from a group affiliated to the Free Syrian Army (FSA), at first contacted the Russian Reconciliation Center for Syria which is responsible for facilitating the processes for all individuals and groups willing to reconcile with the Syrian government.
The same sources cited the surrendered gunmen as saying that there are considerable numbers of fighters who are willing to lay down their weapons in return for amnesty but they are afraid of the ruling Tahrir al-Sham Hay'at (the Levant Liberation Board).
"The Tahrir al-Sham Hay'at won't think twice before shooting dead any fighter willing to reconcile with the government," one of the militants said.
Local sources in Northwestern Syria reported on Wednesday that Tahrir al-Sham Hay'at was preparing to launch a fresh wave of attacks on rival terrorists of Ahrar al-Sham in Idlib.
The sources reported that Tahrir al-Sham Hay'at gathered it forces in the town of Harem in Northern Idlib and the town of Abu al-Dhohour in Eastern Idlib to kick off fresh attacks on Ahrar al-Sham's positions.
News websites affiliated to the terrorist groups reported that unknown militants kidnapped Ibrahim Yaseen, one of the commanders of Ahrar al-Sham, and transferred him to the town of Sarmada in Northern Idlib.
The sources also said that unknown raiders also abducted Abu Yusef Choubak, another commander of Ahrar al-Sham, in Idlib.
The websites said Tahrir al-Sham's decision to attack Ahrar al-Sham was made after the abduction of Ahrar commanders and several explosions in Idlib.