Syria
Several People Killed in Deir Ezzur's Popular Protests against US-Backed SDF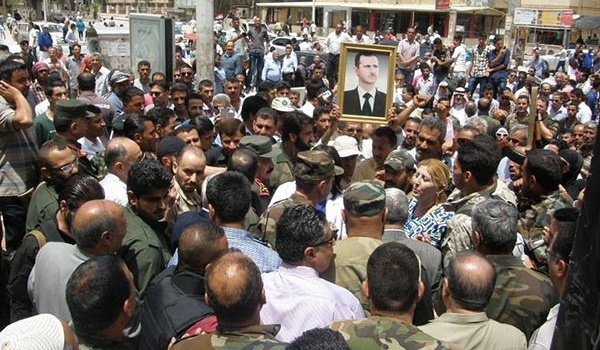 A number of civilians holding peaceful protests were killed and injured by the Syrian Democratic Forces (SDF) in Deir Ezzur province in Eastern Syria, sources said.
Hundreds of residents of al-Zaman town and the city of al-Basira in Eastern Deir Ezzur continued their protests against the SDF for the third day in the row, the Arabic-language media quoted battlefield sources as saying.
The sources said that the civilians called for exit of SDF fighters by closing the roads leading to these regions.
Meantime, it was reported that at least three civilians were killed and several others were wounded in SDF's shootout at protesters.
People in Eastern Deir Ezzur have taken to the streets to protest at the US-backed Syrian Democratic Forces, and forced SDF militants and commanders out of the region.
Local sources in Eastern Deir Ezzur reported on Thursday that masses of people in the villages and towns of Mahimideh, al-Hisan, Safirah al-Tahtani, Safirah al-Foqani, al-Wasiah, al-Mawilah, al-Hasin, Qaribah, al-Azabah and al-Basirah in Eastern Deir Ezzur took part in anti-SDF rallies in the past two days.
They added that the protest rallies were held after increased insecurity, murder, detentions, kidnapping of civilians and hoarding oil by the SDF forces, noting that the protestors closed the main roads of these regions, including Deir Ezzur-Raqqa road in al-Jazeera region.
The sources said that the residents also expelled from the region a number of SDF commanders and forces who had come for talks.
People in Deir Ezzur are widening protests against the Syrian Democratic Forces deployment in the region after the US-backed militants arrested and killed tens of civilians in their jails, media reports said on Monday.
People in the town of Sweidan Jezira in Southeastern Deir Ezzur blocked the roads leading to the region and asked for the expulsion of the SDF fighters.
The sources also pointed to the anger of residents of Eastern Deir Ezzur after the death of a civilian under SDF torture, and said that a large number of Syrians have been shot dead or killed under SDF torture in prisons in recent months while many others are in SDF's jails under different accusations.
Meantime, the SDF forces have imposed curfew in several towns and villages, including al-Sovar, Hajin, al-Basira, Zabiyan and Gharanij.
The SDF has also dispatched massive military convoys comprising tens of security forces and military equipment from Raqqa province to their occupied regions in Eastern Deir Ezzur.