Middle East
Syria
Several Tahrir Al-Sham Terrorists Killed in Chemical Weapons Warehouse Blast in Aleppo
A massive explosion took place in one of the warehouses of chemical weapons belonging to Tahrir al-Sham al-Hay'at (the Levant Liberation Board or the Al-Nusra Front) in Western Aleppo, killing and injuring a number of terrorists, media reports said.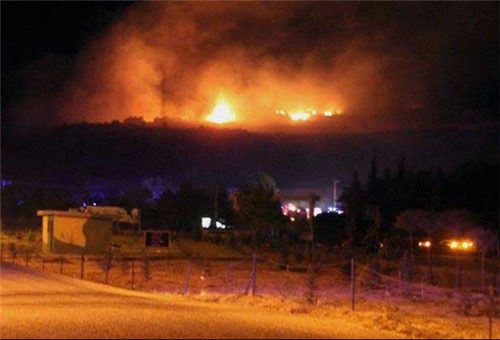 "A huge explosion broke out in al-Atareb town in one of the headquarters of Tahrir al-Sham, known as al-Khalil warehouse that was used for mounting chemical warheads on missiles," the Arabic-language service of Russian Sputnik news agency quoted local sources as saying.
The sources, meantime, said that a command post of the terrorists was completely destroyed and an odd fragrance filled the air.
At least six terrorists were killed and three others were wounded in the explosion.
In a relevant development earlier this week, media reports said that Tahrir al-Sham al-Hay'at and pro-militant White Helmets terrorists had fully prepared to launch false-flag chemical attacks in six spots in the demilitarized zone in Northern Syria.
The Arabic-language service of the Russian Sputnik news agency quoted informed sources in Idlib province as saying that the terrorist commanders have recently held a meeting to designate the missions of the terrorists for using chemical weapons in six spots along the frontlines behind the demilitarized zone in Northern Syria.
They said that the chemical substances will be supplied from tens of locations where the chlorine gas capsules and chemical-mounted missiles had been stored.
"The senior Tahrir al-Sham commanders in a meeting with White Helmet, Jeish al-Izza and Islamic Turkistani Party terrorists agreed to immediately use chemical weapons as soon as the Syrian Army makes advances towards their military positions," the sources said.
They also said that the terrorist commanders have been given advanced wireless systems connected to a coded communication network to expedite exchange of information, instructions and developments concerning the use of chemical weapons on Syrian Army targets.
Meanwhile, the Syrian Army is preparing for a major assault on terrorists in the demilitarized zone as the militant groups continue violating the Sochi agreement by continuing their daily attacks from the demilitarized zone.