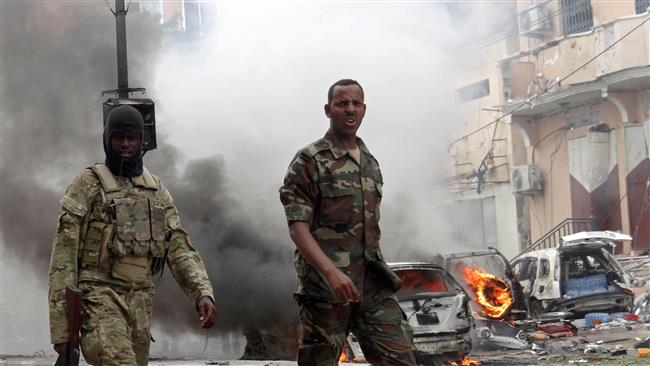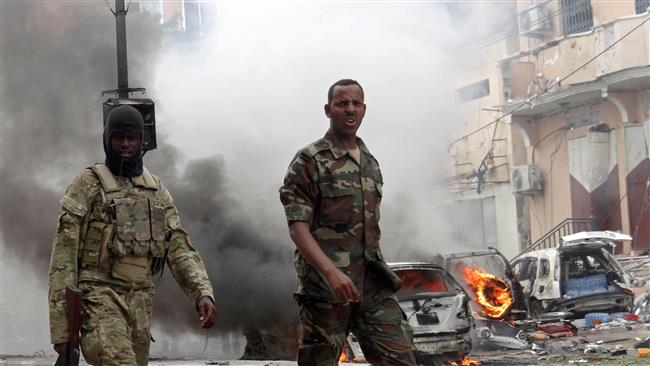 The Takfiri al-Shabab militants have killed more than 10 soldiers in an attack on a base in southern Somalia.
Abdulahi Mohamed, a senior security official, said on Sunday that the assailants drove a truck loaded with explosives into the main entrance of the base in Bulogadud area before attacking the soldiers.
The militant group claimed responsibility for the deadly assault in a brief statement posted on a pro-Shabab website. The statement said "three technical vehicles were looted" in the assault.
"There was an attack on the military base in Bulogadud this morning… the initial information indicates that more than 10 soldiers were killed," media outlets quoted Mohamed as saying. "There was a car bomb blast and gunfire followed. The forces retreated from the base initially but they later regained control."
Ahmed Mohamud, a resident in a nearby village, told AFP that the militants "burned down everything and left."
Bulogadud is located about 70 kilometers (40 miles) from the port town of Kismayo, which has come under several militant attacks in recent years.
Al-Shabab, an al-Qaeda-aligned militant group, was forced out of the Somali capital, Mogadishu, by African Union troops in 2011 but still controls parts of the countryside and carries out attacks against government, military and civilian targets.
The militant group is just one of the challenges facing the new Somali government, which is still struggling to expand its authority beyond the capital and other selected areas.