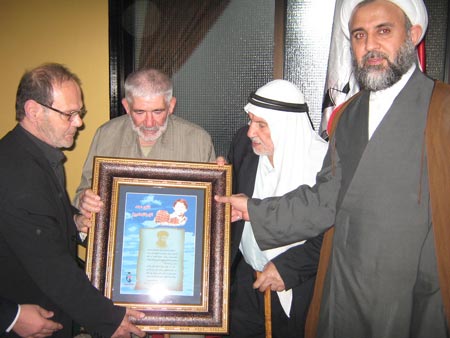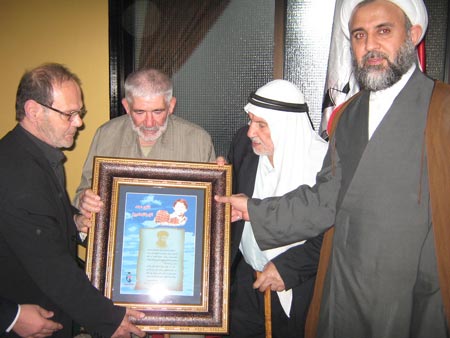 In the annual commemoration of martyr's day, Al Shahid association held an honorary dinner for the fathers of self-sacrifice martyrs in the house of martyr Ahmad Kassir father's house.
The dinner took place in presence of South Lebanon Hizbullah official Sheikh Nabil Kaouk, Director General of the association Sayyed Jawad Noureddine, fathers of martyred leaders Sayyed Abbas Moussawi and martyr Imad Moghnieh, as well as the son of Sheikh Ragheb Harb and fathers of other martyrs.
On this occasion, Sheikh Kaouk said that "The operation of martyr Ahmad Kassir is the greatest and most significant operation. It is the most successful in the history of conflict with the "Israeli" enemy."
"This operation has rocked the Zionist entity and opened the door before martyrs and their sacrifices, until the final victory."
Sheikh Kaouk assured that "The weapons of self-sacrifice martyrs are the weapon which led to an era of victories and led to the defeat and humiliation of the Zionist enemy."
In his turn, Father of martyrs Ali and Mohammad Ashmar assured "We will continue the path of resistance, and are also ready to follow the lead of our children and sacrifice with our own souls."
As for father of martyr Ammar Hammoud, he said "We, the elderly are able to resist and give, and await the liberation of Al Quds and the Aqsa mosque." He noted that the settlement talks with the enemy are humiliating.
Father of martyred leader Imad Moghnieh also said a short word. "I am very proud to say that Shahid Ahmad Kassir left my home straightaway before he executed his operation along with Haj Imad." He stressed that the blood of the martyrs has led to the victory of the homeland, and brought it more dignity and glory.
Father of Sayyed Abbas Moussawi on his part considered that the land of South Lebanon that has been irrigated by the blood of the martyrs has led to victories, and safeguarded the dignities of the Lebanese and Arabs.
At the end of the ceremony Sheikh Kaouk presented martyr Ahmad Kassir's father with a memorial tableau to honor him on this day.