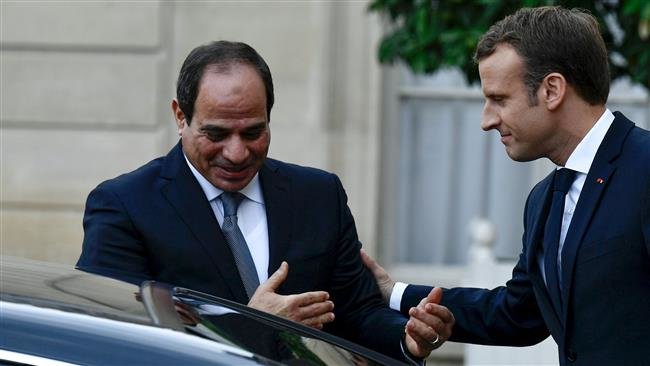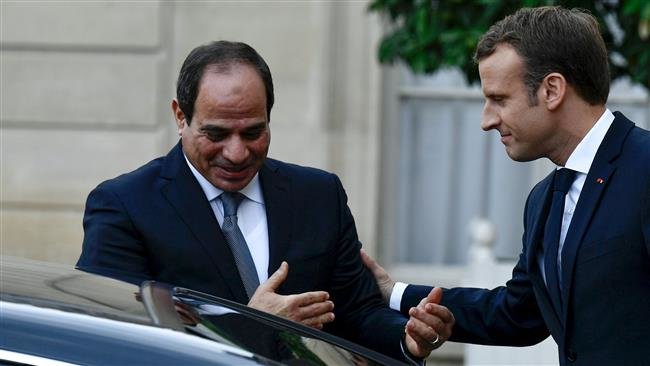 French President Emmanuel Macron says human rights in Egypt are perceived as worse now, under his Egyptian counterpart Abdel Fattah el-Sisi, than under former strongman Hosni Mubarak, who was toppled by protests in 2011.
"I think current policies are perceived by intellectuals and Egypt's civil society as tougher than under the Mubarak regime," Macron told reporters on the sidelines of a three-day trip to Egypt, which was made despite widespread criticisms by human rights groups.
"I can't see how you can pretend to ensure long-term stability in this country, which was at the heart of the Arab Spring and showed its taste for freedom, and think you can continue to harden beyond what's acceptable or justified for security reasons," Macron added.
"I think that's becoming paradoxical and harmful for Egypt itself," he added.
Non-governmental organizations are pressuring Macron to be firm with the Egyptian president, who in April secured a second term, shoring up his position as a power-broker in the region.
The French president is facing heavy pressure to speak out against allegations of widespread human rights violations in Egypt, including those reportedly using equipment purchased from France.
Macron said he would be more outspoken during the three-day trip, which began on Sunday, and would also mention individual cases in private. He was to meet Sisi on Monday.
"I will at the same time have a confidential dialogue on individual cases and speak out more distinctly, as well as have symbolic exchanges, because I think that's in the interest of President Sisi and Egypt's stability," Macron said.
During talks with Sisi in Paris in 2017, Macon gave him a list of Egyptian prisoners of whom he demanded the release; however, he declined to publicly criticize the rights record of his Egyptian counterpart.
Macron said at a press conference with Sisi in the French capital, Paris, at the time that he was not in the business of giving "lectures."
"We do not give lessons without taking account of the context."
Human rights advocates blame Egypt for detaining and torturing scores of activists over the years since the 2013 coup, among other repressive measures.
An October report by rights group Amnesty International claims French military and security equipment was used by Egyptian security forces in "brutal repression."
And a recent report by non-governmental group Front Line Defenders described worker abuse at an Alexandria shipyard building corvettes in partnership with the French company Naval Group, a practice that reportedly flouts France's laws requiring French firms to establish mechanisms to prevent right abuses.
The Egyptian government has been cracking down on opposition since the country's first democratically-elected president, Mohamed Morsi, was ousted in a military coup in July 2013 led by Sisi. The controversial ouster sparked protests by supporters of Morsi and the country's outlawed Muslim Brotherhood movement.
According to Human Rights Watch, Egyptian authorities have arrested or charged at least 60,000 people, forcibly disappeared hundreds for months at a time, given preliminary death sentences to hundreds more, and tried thousands of civilians in military courts since the 2013 coup.
Sisi has presided over a wide-scale crackdown on dissent and Egyptian authorities have jailed several human rights activists and banned others from traveling due to allegations of harming national security.