Iran
Middle East
Shamkhani Receives Top UAE Official, Says Regional Ties Must Remain Unaffected by Outsiders
Secretary of Iran's Supreme National Security Council Ali Shamkhani received on Monday the United Arab Emirates' National Security Adviser Sheikh Tahnoun bin Zayed Al Nahyan in Tehran.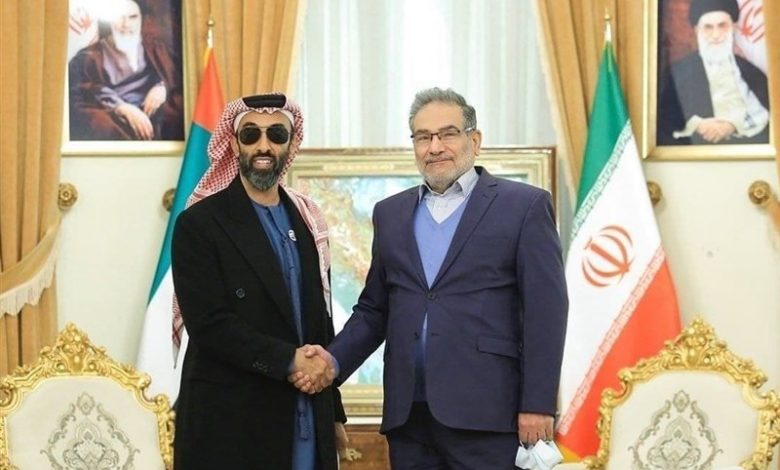 Shamkahni called for the settlement of regional disputes through dialogue instead of military approaches, urging that the relations among regional states should not be influenced by extra-regional actors.
The Iranian official emphasized that regional stability and security will be ensured only through constant negotiations and cooperation among regional countries.
"The relations among regional states should by no means be affected by the interventionist policies of extra-regional states," Shamkhani said, as quoted by Tasnim news agency.
"Warm and friendly relations with neighbors as well as exchange of economic, trade and investment capacities are the Islamic Republic of Iran's main foreign policy priorities," he underlined.
Shamkhani noted that collective cooperation among the Persian Gulf countries would contribute to development and welfare and help the nations to play a major role in the regional and international economy as the hub of energy.
Calling for joint efforts to end the military and security crises that have engulfed regional Muslim nations, the Iranian official said, "Dialogue and understanding must replace military approaches to the settlement of disputes."
He expressed hope that the Emirati official's visit to Tehran would usher in a new era of relations between the two neighbors.
For his part, Sheikh Tahnoun bin Zayed Al Nahyan hailed Iran as a major and powerful country in the region with a unique geopolitical position that connects the East to the West.
He emphasized that close and brotherly relations with Tehran constitute a priority in Abu Dhabi's policies.
Highlighting the opportunities for cooperation in various sectors, such as transportation, energy, health and investment, the Emirati adviser stressed the need to set up specialized working groups to weigh plans for economic interaction between the UAE and Iran and remove the obstacles.
The Emirati official is also going to hold a meeting with Iranian President Ebrahim Raisi during his one-day visit to Tehran.