Lebanon
Sheikh Qaouk: Ready For Any Confrontation with ''Israel'', Support Gov't for Lebanon's Stability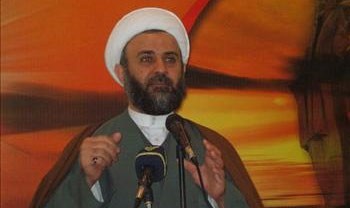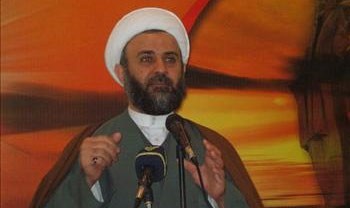 The Deputy Head of Hizbullah's Executive Council His Eminence Sheikh Nabil Qaouk stressed Sunday that "Hizbullah backs the permanent government out of keenness on political stability and Lebanon's security and not because it is satisfied with the cabinet's performance."
During his speech, His eminence stated that "the government's national duty requires working effectively and productively, away from bets on the Syrian crisis and personal and electoral calculations."
"Feltman gave his operational orders when he said that nothing is louder than the voice of the 2013 elections and the battle in Syria," he added.
Sheikh Qaouk further highlighted that "they are readying for electoral battles and are involved in the battles of strife in Syria," accusing some Lebanese parties of focusing their efforts on disarming the resistance.
"Nothing is new in the recent "Israeli" threats that gave legitimacy to the assassination of the resistance's leader," the top Hizbullah official declared pointing out that "We [the resistance] do not underestimate any "Israeli" threat."
His Eminence further confirmed that "as the resistance is preparing itself for any confrontation with the Zionist entity, we are fully aware of the fact that "Israel" seeks to avenge its 2006 defeat in Lebanon."
"Some domestic parties do not want to hear the "Israeli" threats or to see the "Israeli" occupation of the Kfar Shouba Hills and the Shebaa Farms, the daily violation of Lebanon's airspace and the infringement of Lebanon's maritime oil wealth," Sheikh Qaouk added.
The Deputy Head of Hizbullah's Executive Council accused these internal sides of "aiming at focusing on Syria's confrontations because they want to return to power at any cost and through any means."
"What the US, its Arabs, "Israel" and "March 14" want is to weaken the resistance that forms an invincible barrier in face of US and "Israeli" schemes as well as their tools in Lebanon and the region."
"Those who have entangled themselves in the Syrian crisis have turned Lebanon into an arena that is being violated by Syrian armed men," Sheikh Qaouk added stressing that "Hizbullah is not against the humanitarian and ethical issue of hosting peaceful refugees and offering them aid."
Moreover, His Eminence unveiled that "today we can't control the borders with Syria after it became sacked by hundreds and thousands of armed men."
"There are extensions of "March 14″ forces within the authority and security services," Sheikh Qaouk confirmed noting that "the political and electoral calculations hamper the work of the Lebanese army."
He also gave the example of "Homs killers and criminals who are interviewed by TVs from the Lebanese land to talk about their killings and slaughter while the judicial and security services keep silence."
Slamming the regimes in Riyadh and Manama, Sheikh Qaouk said: "Syria has set a date for halting the fight with the armed men, but when will Saudi Arabia and Bahrain declare an end to killing and oppression in Manama and Qatif."
"Where are those who cry to protect civilians in Syria from the protection of civilians in Gaza," His Eminence wondered concluding that "these countries, which supplies arms and money for the strife in Syria, didn't and won't buy one missile for the resistance in Gaza."