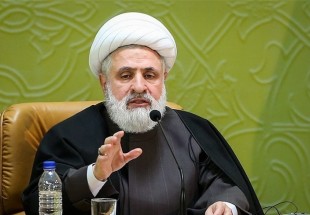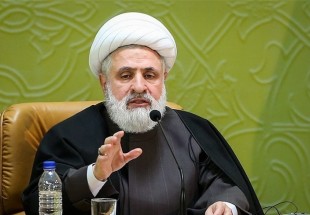 The Lebanese Hezbollah Resistance Movement's second-in-command, Sheikh Naim Qassem, underlined that the Palestinian issue is something on which Shiites and Sunnis are "unanimous".
Speaking in a meeting with Iranian Cultural Attaché to Lebanon Mohammad Mehdi Shariatmadar in Beirut, Sheikh Qassem praised the late founder of the Islamic Republic, Imam Khomeini, for his wise initiative to mobilize Muslims' supports for the Palestinian nation.
"Imam Khomeini's message about Palestine was a divine issue," the Lebanese cleric said, adding that promoting unity among religious scholars is a difficult task but Imam Khomeini managed to carry out the important work by drawing attentions to the Palestinian issue.
The issue is one which Shiite and Sunni Muslims unanimously believe must be resolved, he noted.
In August 1979, Imam Khomeini designated the last Friday of the holy month of Ramadan as the International Quds Day, and called on Muslims across the world to hold rallies to show their solidarity with Palestinians.
Millions of people around the world pour into the streets on this day in a show of support for the people of Palestine, and to call for an end to Israeli occupation of Palestinian territories.
Back in January, Supreme Leader of the Islamic Revolution Ayatollah Seyed Ali Khamenei underlined Iran's determination to continue support for the Palestinian cause.
"The Islamic Republic of Iran will remain resolved (in its support) until the day that the cause of Palestine is materialized," Ayatollah Khamenei said in a meeting with Head of Popular Front for the Liberation of Palestine–General Command (PFLP-GC) Ahmed Jibril in Tehran.
The Leader also noted that the issue of Palestine is among the top issues of the Muslim world.