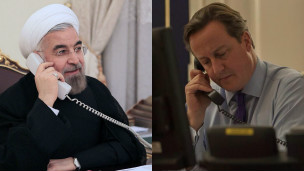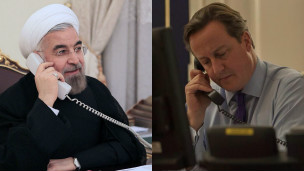 Iranian President Sheikh Hasan Rouhani stressed in a telephone call to British Prime Minister David Cameron that Tehran will defend its nuclear rights.
The call was the first such high-level exchange between British and Iranian leaders in a decade. It came on the eveRouhani and Cameron of a new round of talks in Geneva between world powers and Iran on Tehran's nuclear program.
"As Iran is determined that its nuclear activities will remain peaceful, it will strongly defend its nuclear rights," the official IRNA news agency reported Sheikh Rouhani as telling Cameron.
"We will accept no discrimination on this issue. The language of respect must replace that of threats and sanctions," he added.
For its part, Downing Street confirmed that Cameron and Rouhani had discussed the talks between world powers and Iran on Tehran's nuclear program.
Cameron "underlined the necessity of Iran comprehensively addressing the concerns of the international community about their nuclear program, including the need for greater transparency", a Downing Street statement said.
IRNA said Rouhani also held talks on the telephone with Chinese President Xi Jinping, telling him Tehran was seeking "an accord which preserves its rights and shows that the Iranian nuclear program is totally peaceful."
He called for China to oppose "excessive demands of certain countries," referring to France which took a tough stand at the last round of talks in Geneva at the start of November.
Source: AFP