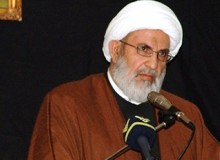 Head of Hizbullah Juristic Council, Sheikh Mohammad Yazbek confirmed that the ability and power of Lebanon is not to frighten the Lebanon, but rather to frighten the "Israeli" enemy.
He added that what happened of fear among the Zionist because of a flock of birds, stands as great evidence to the fear the enemy is living in from the resistance.
Sheikh Yazbek stated that "Israel", which once threatened the people, and has the "undefeatable" army, started the sirens after they saw birds that they thought were resistance rockets.
Sheikh Mohammad Yazbek wondered, "If we [resistance] have this power, then why should we give it up? Doesn't that serve the interests of the US and "Israel"?"
Head of Hizbullah Juristic Council stressed that what is requested is for all the Lebanese to think about the interests of their country, and the notion of coexistence and building governmental institutions, which do not differentiate between one citizen and another.
Sheikh Yazbek hoped that PM-designate Najib Mikati form the new government soon to that it would take action in protecting the Lebanese people's affairs and interests.