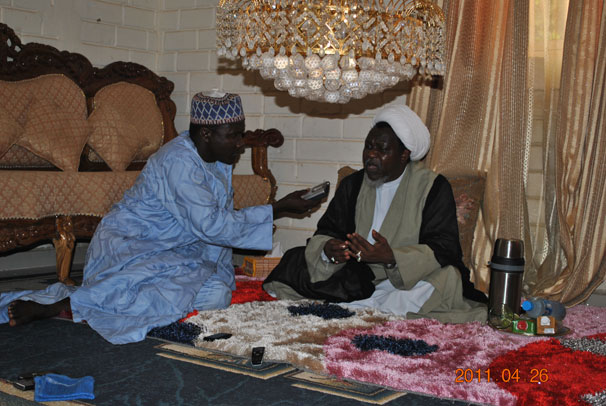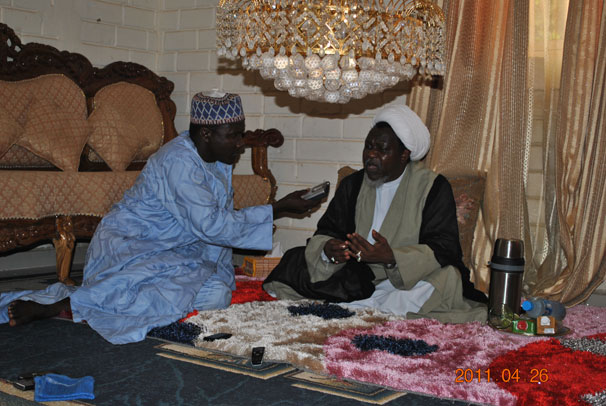 A Reporter from Nagarta Radio interviewed the Leader of the Islamic Movement Sheikh Ibraheem Zakzaky in his residence in Zaria on Tuesday the 26th of April 2011 on the post election crises that affected some Northern states. Some of the views expressed by the Leader of the Islamic Movement are translated below from Hausa language by Khalid Isa.
The first question by the reporter was on how to restore peace after the crises. The leader explained that one is put into confusion regarding the post election happenings. It is an issue of election, what is expected is announcement of result, after casting of votes. If people are satisfied with the result they normally come out to celebrate. Moreover, if they are not satisfied with the result, there are ways and steps to express their dissatisfaction. However, if steps taken by someone were illegal, still there are things to be done that are in line with common sense.
For example, if people came out and rejected the result that was announced and protested that it was not what they voted for, it will be understandable. However, one cannot understand attacking, maiming and killing innocent people and torching of properties; all this are contrary to logic and common sense. This is on the part of people.
One the part of Government, what they did was worse. This is because if what some people did was against law, government ought to have shown some level of maturity and common sense, but what it did was worse than what the people did as they sent armed men of police and soldiers who opened fire on people.
If protesting people turned violent by killings and torching of properties, security agents ought to have stopped them from doing so, and not to kill more. The soldiers, further, went round and arrested many people massively. The arrested people were tortured in various ways to the extent that some of them died.
By the provision of law, every suspect is innocent unless proved otherwise beyond doubt. Even if one is guilty, he/she supposed to be brought to the law and not to be tortured by security agents just like what they did to the arrested people; they were kept without food or drink while subjected to torture.
Again, imposing 24hr curfew for 3 consecutive days by the government has been a source of inconvenience to general public. This lengthy curfew was never recorded in the history of Nigeria.
There was over zealousness from both sides- the government and the people. However, that of Government was worse as it s her responsibility to restore peace and order.
When the reporter ask for Sheikh's view on a crises which was political and turned to look religious, the Sheikh pointed that it is a matter full of confusion which shows that government has hand in the crises. This is because, even before the election there were some individuals, who, publically kept saying the issue of election is religious one, and the government knew about them but kept silent. We even heard news that some of them were sponsored by the government for this kind of campaign.
So, right from the beginning the government wanted the occurrence of this kind of crises, as this will take away people attention from speaking about election- weather it was fair or not, to concentrate on talking about crises; this is what is exactly happening; people are now concerned with the current crises and how to restore peace and order.
In another part of the interview the Leader, as usual, cautioned people not be diverted into believing that the election is to do with religion , this is because the organizers of the election did not express so. Even the candidates are made of Muslim and non-Muslims and there is no difference among them.
One shall not be diverted into believing that the issue of election is religious as this can cause religious fight between Muslims and non-Muslims.
When asked on what he has to say to both sides, the Leader of the Islamic Movement explained that human tends to display anger as it is part of his nature; however, being angry should not turn human a mad or senseless.
Already, people are aware that it is the issue of election and as they see that the person they voted for was not announced as winner, people supposed to have waited to hear what the person they voted for might say about it since he is alive. Even the Presidential Candidate ought to tell people to calm down; and that they know the right steps to take on the matter instead of dissociating himself from what they did.
On the other hand, the Government, which is responsible for maintaining law and order, made the matter worse by shooting innocent people followed by mass arrest and torturing of innocent people, while at the same time neglecting other places. For example the government was harsh on Zaria and Kaduna people while neglecting people in Southern Zaria without protection or help.