Africa
Human Rights
World News
Sheikh Zakzaky's Son: They Are Killing My Father
The authorities of Abuja are determined to murder my father, the son of Nigeria's Muslim leader Sheikh Ibrahim Zakzaky revealed, adding that a recently collected blood sample from the cleric contains a high level of toxic substances.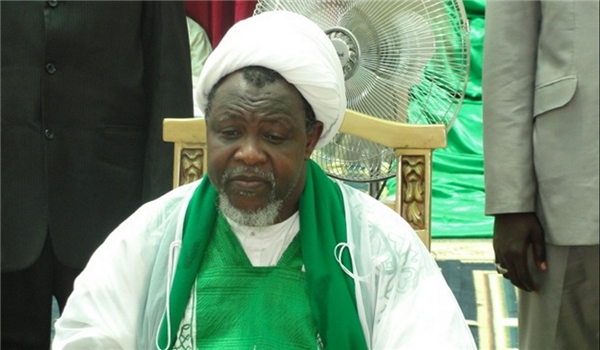 On Saturday, the son of Sheikh Zakzaky warned about the deteriorating health of the 66-year-old cleric, who has been held in detention along with his wife for more than three years.
Mohammad Zakzaky said that he was shocked by his father's worsening medical condition after visiting him, stressing that he needed to be immediately hospitalized as "large and dangerous quantities of lead and cadmium have been found in his blood".
Mohammad said the Nigerian authorities had not taken any action so far, and that they intend to murder his father.
Zakzaky, the leader of the Islamic Movement in Nigeria, has been in detention since December 2015 after his residence in the city of Zaria was raided by Nigeria's forces, during which he was beaten and lost his left eye.
During the brutal crackdown, three of his sons lost their lives, his wife sustained serious wounds and more than 300 of his followers were killed.
Zakzaky was charged in April 2018 with murder, culpable homicide, unlawful assembly, disruption of public peace and other accusations. He has pleaded not guilty, vehemently rejecting all accusations brought up against him by his country's authorities.
On Friday, the UK-based Islamic Human Rights Commission (IHRC) announced that it had received reports about Zakzaky's health condition that it had further worsened.
The IHRC — which had sent a medical team to Nigeria in April to examine the health condition of Sheikh Zakzaky and his wife — has already said the specialist treatment they require can only be fully accessed outside the African country.
Separately, members of the Islamic Movement in Nigeria (IMN) had also said last week that the cleric had been poisoned in prison and required urgent medical care abroad.
On Thursday, the IMN also said in a statement that the group's leaders would hold Nigerian President Buhari Muhammadu responsible "if anything should happen to Zakzaky or his wife in detention".
"Their health status is of paramount significance to us all and Buhari must be held responsible should anything untoward happen to either the Sheikh or his wife," the IMN said.
"We are once again calling for the immediate release of our leader and his wife, whose health situations appear to be deteriorating very fast, especially in view of the reported poisoning they were subjected to in detention," the statement further read.
In 2016, Nigeria's federal high court ordered Zakzaky's unconditional release from jail following a trial, but the government has so far refused to set him free.
On Saturday, a human rights group, the Initiative for Conciliation and Rights Protection (ICRP), called on the Nigerian authorities to act immediately and not to allow the incarcerated Sheikh Zakzaky to die in their hand.
The ICRP specifically, called on the United Nation (UN), the European Union (EU), the African Union (AU), the President of the Senate Ahmed Lawan and the Speaker of the House of Representatives Femi Gbajabiamila to intervene quickly on the deteriorating health condition of the IMN leader and his wife, Zeenah.
The human rights group, also called on President Muhammadu Buhari's government to allow Sheikh Zakzaky access health care base on the instructions of their doctors immediately and not to allow the leader of movement die in the custody of DSS.
In a statement jointly signed by Dr. Yahaya Abubakar, Barr Geoffery Netochukwu, Comrade Godwin Ekoja, Barrister Bala Hassan, Comrade Ahmad S. Isa and Prince Adelaja Adeoye, the ICRP said the international organizations and the parliament must ensure that the Buhari's led administration come out clear and explain to Nigerians the reason behind the unconstitutional act against Sheikh Zakzaky and his wife.
The group added that ICRP medical team were able to have some explanation about the results which part of it states that in the case of Sheikh Ibraheem Zakzaky, he had obstructed blood flow to the heart (Myocardial Ischemia and Left ventricular hypertrophy) which poses a serious risk of a heart attack. Severe cervical spondylitis causing nerve root compression.
"Further more, in his right eye the diagnosis was severe visual impairment, progressive open angle glaucoma and progressive macular atrophy and other issues that can inevitably lead to permanent blindness. In the left eye the diagnosis was Anophthalmia, which is to say that the left eye is completely absent," it said.
ICRP also disclosed that, the symptoms of heavy metal poisoning were also observed from the tests, which revealed that there is unusually high concentrations of lead and cadmium in his blood.
"This means that the full extent of the damage may yet be much higher than can be easily ascertained," it added.
"Our advice to President Muhammadu Buhari is that the current state of health of Sheikh Zakzaky and his wife, Zeenah, is a medical emergency issue and should be dealt with immediately by handing them over to their family members so that they can be treated in a good and quality healthcare facility outside the country as their doctors stated," it noted.
"Their state of health has been deteriorating due to the negligence and untimely interventions, caused by the unnecessarily restricted nature of their access to medical care for for nearly four years," the group stated.
On Wednesday, Badia Ibraheem Zakzaky, the step daughter of Zakzaky, in an interview with FNA also expressed deep concern about her step parents' health conditions after they were wounded and detained by the Nigerian army in Zaria region mid December 2015.
"Sheikh is suffering medical conditions in his head, neck and eyes and the situation is the same with my mother. The doctors have diagnosed lead and cadmium in his blood 20 times higher than normal levels," Badia said.
She reminded that lead damages all organs in the body, specially the brain, liver, blood and bones, and expressed concern that high amounts of lead in the blood can lead to stroke.
Badia noted that cadmium also causes many problems in the body, including lung cancer, and said, "Sheikh and his wife are in danger."
She called for their immediate transfer to an equipped hospital outside Nigeria to be treated for all their problems, and said, "There are specialized hospitals in India to provide the treatment and medication needed for such diseases."