Europe
Shelling kills 11 people in Ukraine's Donetsk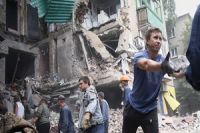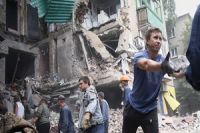 At least 11 people have been killed in the eastern Ukrainian city of Donetsk by the government troops' shelling.
Donetsk residents said on Thursday that ten people were killed in a cultural center fire due to a shell explosion and 22 others were injured, RT reported.
A worker of Ukraine's DTEK energy holding was also killed in the shelling.
The city's regional hospital was badly damaged on late Wednesday.
According to local residents, a day before the shelling, they saw a drone hovering over the area.
Ukrainian aircraft have been flying over Donetsk since early Thursday and the residents expect new airstrikes today.
During the night, Ukrainian army's shelling destroyed apartment houses in two city districts and a civil registry office. One shell hit a city school, destroying it beyond repair.
Ukraine's mainly Russian-speaking regions in the east have witnessed deadly clashes between pro-Moscow forces and the Ukrainian army since Kiev launched military operations to silence the pro-Russians in mid-April.
The political unrest in eastern Ukraine has so far claimed the lives of more than 2,000 people, according to figures released by the Office of the UN High Commissioner for Human Rights (OHCHR).
Nearly 300,000 people have also been forced to flee their homes due to fierce fighting in the east, according to the UN.