Pakistan
Shooting death of teens shuts down trade in Kashmir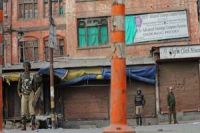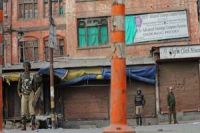 Trade in Indian-controlled Kashmir has been shut down amid a strike in protest against the recent killing of two teenagers by Indian army troops.
According to Press TV, many shops and businesses were closed in Indian-controlled Kashmir on Wednesday after pro-independence groups called for a general strike over an incident in a suburb of Srinagar on November 3, where two teenagers were shot dead.
Indian soldiers fired at a passenger car after it failed to stop at two checkpoints in Nowgam, an army spokesman said.
Two people in the vehicle were killed and two others were critically wounded.
The All Parties Hurriyat Conference called for the strike to press for an investigation into the killings.
The Indian army has expressed regret over the loss of lives and called for an independent inquiry into the killings. It also removed 16 soldiers from field duty pending the investigation.
Indian authorities have imposed a curfew in many parts of Srinagar, the main city in Indian-controlled Kashmir.
Security measures have also been increased, including the deployment of paramilitary soldiers in armored vehicles to patrol the streets.