General
Shooting left 1 woman dead in Florida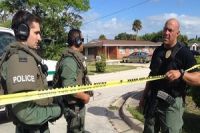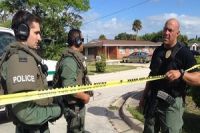 A woman has been fatally shot in the US state of Florida, and police have arrested the suspect in what to appear to be a botched drug-related robbery.
According to the reports, Tahnika Michelle Duppins, 32, was found shot and injured in a home in Cocoa, Brevard County, on Friday, authorities said. She was taken to the hospital where she was pronounced dead later.
"We actually had our SWAT team out serving a search warrant around the corner. Police responded. A female was transported. (She) has recently been pronounced dead," said Cocoa Police spokeswoman Barbara Matthews.
"We do believe from information we're getting from witnesses and people in the area that this is not a random crime," Matthews said.
Matthews also said there is a possibility that more than one person was involved in the shooting as a person of interest told police that two men had entered the home.
"We have some information of some people seen leaving the area. We're checking all over the area for people in different vehicles. We're following up on every bit of info we're getting," she stated.
Dennis Avile II, 33, was considered a person of interest earlier in the investigation and his handgun was seized as evidence.
Avile II was charged late on Friday with second-degree murder, giving false information to police, possessing a firearm by a convicted felon as well as charges pertaining to the destruction of evidence.
According to neighbors, there was a similar home invasion and a shooting in the neighborhood last week and that they are tired of violence in the area.
"Somebody needs to do something about this crime, and people in this neighborhood need to stop being scared," neighbor Hope Jenkins said. "They need to stand up. If they want to come kill me, they can kill me. I and God got an understanding."
"That's a good girl," said Jenkins. "(She) take her child to school. Now she dead. What is her child supposed to do now? I feel like it could have been me. The woman didn't have anything. It's just stupid."
The shooting caused the authorities to lock down two schools, McNair Middle School, Golfview Elementary School and Emma Jewell Charter School just after 8 a.m. Friday.