Iran
Middle East
Six key elements behind recent Tehran riots nabbed
Iran has arrested six main elements behind violent riots that recently hit Tehran, following protests in several cities prompted by gasoline rationing and price hikes.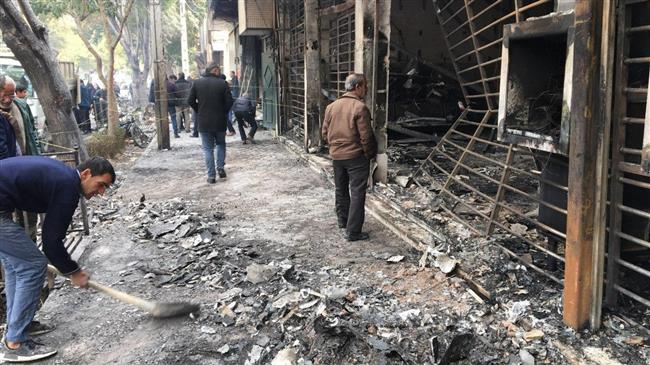 Commander of Tehran's police Mohsen Khancherli said Tuesday that security forces had identified and arrested the six during separate operations in Robat-Karim County, west of Tehran Province.
He said that the suspects had confessed to their acts of sabotage.
The police will decisively deal with any act of violence, he said, adding that those who seek to undermine the security of citizens and loot public property will face prosecution.
The Iranian government raised gasoline prices on November 15 in order to moderate the national consumption rate, which stands at 110 million liters per day, 40 million liters above the maximum daily domestic requirement.
Iran's IRGC arrests 100 ringleaders of recent riotsJudiciary spokesman says Iran's elite defense forces have apprehended around 100 of the ringleaders who were involved in the recent riots.
The move prompted some peaceful protests, but riotous elements, taking advantage of the circumstances, quickly entered the scene, destroying public property and setting banks and gas stations ablaze. Authorities says some also used firearms and other weapons against protesters and security forces.
There have been reports of fatalities among both security forces and civilians in different locations, with an official tally not available yet.
Iran earlier rounded up around 100 ringleaders and masterminds of the violent attacks.
Last Friday, Judiciary Spokesman Gholam-Hossein Esmaili said a number of those elements were tied to the notorious US-backed Mujahedin-e Khalq Organization (MKO) terror group, royalists as well as separatists, who were nabbed in the country's border provinces, besides members of organized groups trained towards staging acts of sabotage.