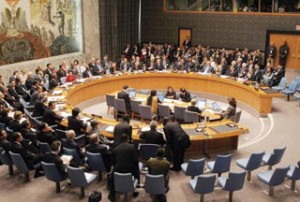 Senior diplomats from six major powers have held a conference call to discuss Iran's nuclear issue, Britain's ambassador to the UN says.
Ambassador Mark Lyall Grant told reporters on Wednesday that political directors of the five permanent members of the UN Security Council and Germany held a conference call in capitals and "have agreed they will have further discussions of possible measures early next week."
China, which has been opposed to such talks for weeks, took part in the call with senior officials from Britain, France, Germany, Russia and the US.
Earlier on Wednesday, China's new UN Ambassador Li Baodong said that his country has always advocated diplomacy and was "working with other members to find a peaceful solution."
Lyall Grant said it was too soon to say when a new sanctions draft resolution would be brought before the UN Security Council.
"The resolution will be brought to the council when it is ready," he said.
Tehran has repeatedly declared that it will not relinquish the legitimate Iranian nuclear rights under Western pressure.