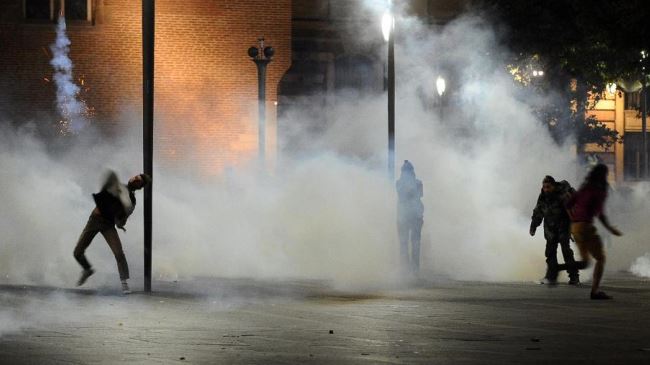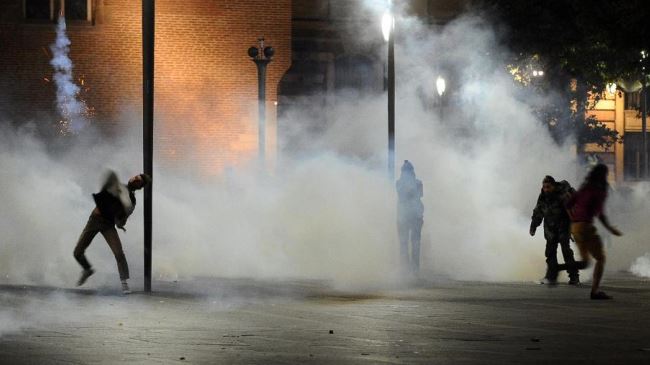 At least 6 people have been injured as police attacked demonstrators protesting against police brutality in France.
The violence broke out on Saturday, mostly in the two French cities of Nantes and Toulouse, as police clashed with protesters who accused them of killing an activist during demonstrations against the construction of a dam.
In the western city of Nantes, riot police used rubber bullets against protesters who were throwing bottles of acid at the police.
Police and protesters also clashed in the southwestern city of Toulouse where according to local authorities, one police officer sustained slight injuries and eight protesters were detained.
According to reports, smaller rallies also took place in other French cities, including Lille, Bordeaux and Avignon.
The demonstrators were protesting the death of Remi Fraisse, a 21-year-old environmental activist, who died under unclear circumstances on October 26 amid clashes between riot police and demonstrators who were rallying against the construction of the Sivens Dam project in the town of Albi, the capital of France's southwestern Tarn region.
"This is a young man who was killed by the police, by the State, and we cannot let this go," a demonstrator told reporters.
Authorities announced on Friday that work on the dam had been suspected.
On the same day, around a hundred people took to the streets of Marseille accusing the police of killing the young protester during a rally at the site of the controversial dam project.
Similar protests were also held against police brutality in other French cities, including Paris, Brest, and Lyon
Tarn residents and environmental activists have been protesting against the deforestation of the dam area for months, with some people staging hunger strikes.