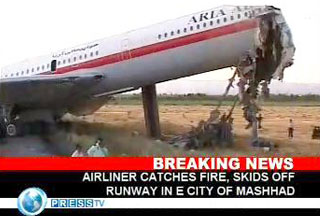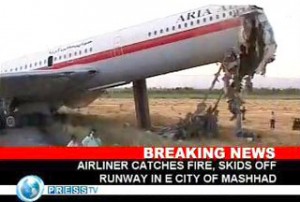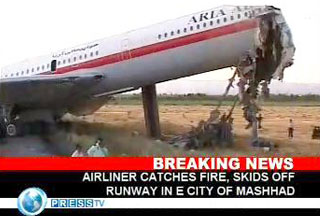 At least 16 people have been killed and 21 others have been injured when an Aria Air plane crash-landed in the northeastern city of Mashhad.
The plane en route to the northeastern city of Mashhad from Tehran crashed as it was attempting to make an emergency landing at the destination at about 18:00 (1430 GMT) Friday, reported Fars news agency.
The aircraft, an Ilyushin Il-62 jet, had 160 passengers and crewmembers onboard. Earlier reports had put the number of deaths at 30 and the number of injured at 20.
Images obtained by Press TV show the cockpit and front part of the fuselage completely destroyed, and the aircraft tipping back on its tail, with the main landing-gear deployed.
The aircraft' was likely to have been the UP-I6208, which indicates that it was registered in Kazakhstan.
A spokesman for the airport said that emergency services were carrying the injured to nearby hospitals, and a full breakdown of deaths and injuries will be provided later.
Post incident videos also show that one of the central emergency chutes on the left side of the cabin had been deployed.
The Il-62 is a long-range airliner with a capacity of about 185 passengers and a fair service record.
The incident comes less than 10 days after another Iranian airliner, a Tupolev-154M, crashed shortly after take-off from Tehran en route to the Armenian capital of Yerevan on July 15, killing all 168 passengers onboard. The cause of the crash has not yet been determined.