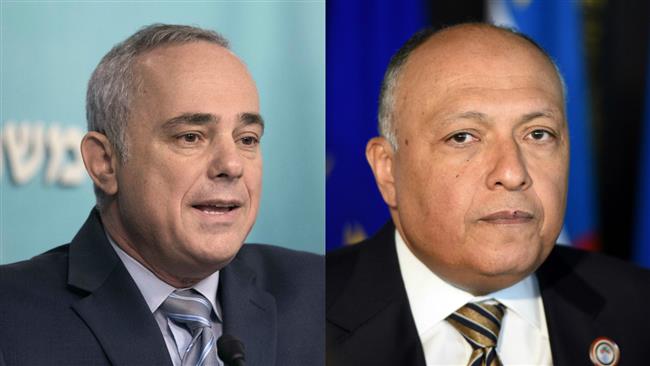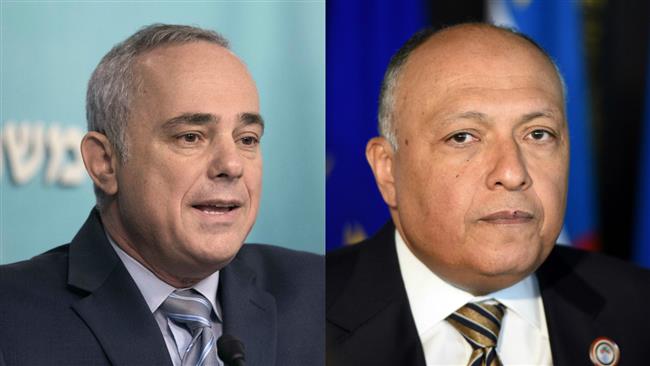 Israel's energy minister has met with the Egyptian foreign minister in Washington, in a rare meeting between the two sides to discuss energy cooperation.
Israel's Energy and Infrastructure Minister Yuval Steinitz met with Egypt's Sameh Shoukry on Thursday on the sidelines of the Nuclear Security Summit held at the White House, several Israeli newspapers reported.
The two ministers reportedly discussed different regional issues such as the possibility of Israel supplying Egypt with natural gas.
Relations between Egypt and the Israeli regime have been growing since Egyptian President Abdel Fattah el-Sisi took power in the Arab country in 2014.
Egypt sent an ambassador to Tel Aviv in January. Hazem Khairat was the first residing Egyptian ambassador in Tel Aviv since Morsi recalled Cairo's last ambassador in November 2012.
The Israeli regime also opened its embassy in Cairo in September 2015 after a four-year closure due to security concerns.
Turkey-Israel ties
In a separate development, Turkish President Recep Tayyip Erdogan expressed readiness to normalize his country's relations with Tel Aviv.
He said during a meeting with Jewish leaders in Washington that there were a number of disagreements between the two sides but the differences could be resolved.
"To do this, there needs to be a show of goodwill and true intentions. We are for the normalization of relations and the development of cooperation," Erdogan was quoted by the Anadolu news agency as saying.
Erdogan also said he expected an upcoming meeting between Turkish and Israeli officials to have positive outcomes, as both sides began to collaborate closely after a recent bombing in Istanbul.
Three Israeli tourists were among five of the bomb attack victims in Istanbul on March 19. Erdogan expressed condolences to his Israeli counterpart Reuven Rivlin after the incident.
In September 2010, Turkey suspended its military ties with Israel and expelled the Israeli envoy from Ankara over Tel Aviv's refusal to apologize over its killing of 10 Turkish nationals who had been aboard an aid vessel bound for Israeli-besieged Gaza.