Palestine
Slaughterer Israeli airstrikes on Gaza kill 4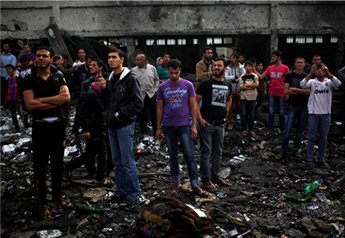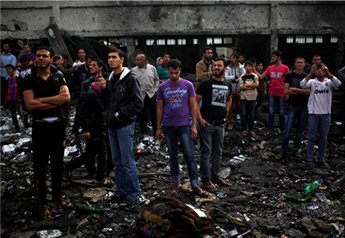 Israeli airstrikes on the Gaza Strip killed four Palestinians on Tuesday morning, and another man died of his wounds, on the seventh day of Israel's bombardment of the coastal strip.
Yahya Mohammad Awad, 15, was killed while hunting birds north of Gaza City, medics said. Bilal al-Barawi, 20, was also killed in an airstrike on north Gaza.
Another airstrike on al-Mughraqa in central Gaza killed Mohammad Rezeq al-Zahar, in his 30s, and wounded his three-year-old son Ahmad, medics said.
A Palestinian farmer, Akram Marouf, was killed while he was working on his land when a missile struck north Gaza. Four Palestinians were reported injured in the same strike on Beit Lahiya.
Meanwhile, a Palestinian man died of his wounds, sustained in Israel's recent bombardment of Gaza, while being treated in Egyptian hospital on Tuesday.
Khalid Daghmash was wounded in an airstrike on Tal al-Hawa neighborhood in Gaza City and died in el-Arish hospital in north Sinai.
Since Israel launched its aerial assault of the Gaza Strip on Wednesday, 122 Palestinians have been killed, and around 900 injured. Three Israelis died in a rocket attack last Thursday.
Israel's army said Tuesday morning it launched over 100 attacks on sites across the Gaza Strip since midnight. Missiles hit the headquarters of a bank and the home of a Hamas commander, causing injuries but no deaths were reported.
Gaza militants continued rocket fire into Israel, and Israeli media reported that a house in Beersheba was hit, causing damage but no injuries.
United Nations Secretary-General Ban Ki-moon arrived in Cairo on Monday to weigh in on ceasefire efforts to halt Israel's bombardment, as US Secretary of State Hilary Clinton headed to Israel for talks.
Speaking from the Egyptian capital on Tuesday, Ki-moon said an Israeli ground operation in Gaza would be a "dangerous escalation."
Meanwhile, Slaughterer Israeli Prime Minister Benjamin Netanyahu and his top ministers debated their next moves in a meeting that lasted into the early hours of Tuesday.
"Before deciding on a ground invasion, the prime minister intends to exhaust the diplomatic move in order to see if a long-term ceasefire can be achieved," a senior Israeli official, speaking on condition of anonymity, said after the meeting.