Palestine
Slaughterer Israeli occupation forces kidnap 10 Palestinians, including child, from their homes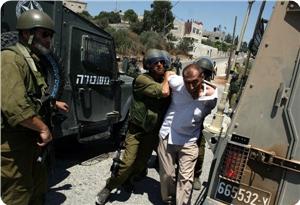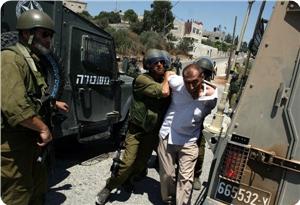 The Israeli occupation forces (IOF) kidnapped 10 Palestinian citizens, including a child, during violent raids in different West Bank areas.
A security official reported that the IOF kidnapped a 14-year old child named Karam Shehadeh after a violent raid at dawn on his home.
He added that Israeli troops aboard military vehicles patrolled at dawn today Ras Jura neighborhood in Al-Khalil city and stormed Al-Samu town to the south.
Later, they established a checkpoint at the entrance to Beit Kahel town north of Al-Khalil and another one in Ras Jura neighborhood, and embarked on checking the IDs of citizens.
In Bethlehem, the IOF kidnapped five young men and brutally beat another one during raids on homes in different areas of the city.
During a raid in Azza refugee camp in Bethelehm, the IOF handed three young brothers summonses for interrogation from the Israeli intelligence in Etzion settlement.
In Jenin refugee camp, three sons of prisoner Sheikh Jamal Abul-Heija were kidnapped from their home.
A Palestinian teacher named Khaled Al-Haj was also reportedly taken prisoner after a raid on his house in Jenin city.
In another incident, the IOF stormed Jalqamus village to the east of Jenin and established a checkpoint at the entrance to Yamoun town before starting to search vehicles and interrogate the passersby.