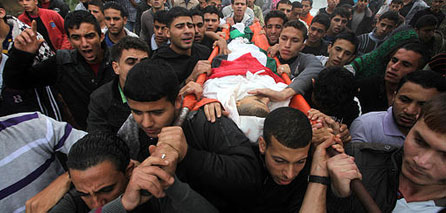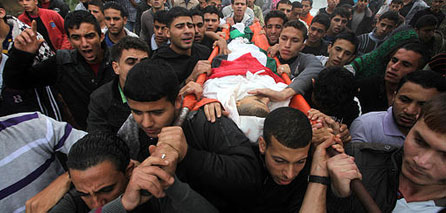 Israeli warplanes launched at dawn on Monday (12/11) series of new raids on different parts of the Gaza Strip, no casualties were reported.
Our correspondent in Gaza City reported that the Israeli occupation bombed with at least one rocket an empty ground next to Abu Jarad training site, south of Gaza City, but no injuries were reported.
He added that the Israeli warplanes also bombed an empty ground near – former intelligence – building north of Gaza City with one missile, which resulted in a sound of a huge explosion, destroying a number of houses' windows surrounding the bombing.
In south Gaza Strip, our correspondent reported that the Israeli occupation bombed an empty land in al-Nasser neighborhood in the east of Rafah, without causing any injuries.
The Israeli warplanes is still flying over the Gaza Strip on medium and low altitudes sometimes.
Thus, the number of martyrs in the continuous Israeli aggression on the Gaza Strip in two days ago is (6) Martyrs; they are:
Mohammed Saeed Shkoukani (28 years)
Ahmed Kamel Dardasawi (18 years)
Mohamed Osama Harara (17 years)
Ahmed Mustafa Harara (16 years)
Matar Abu Al Ata (20 years)
Mohammed Obeid (20 years)