Middle East
Palestine
Slaughterer Netanyahu announces failure over cabinet formation
Zionist Prime Minister Benjamin Netanyahu has announced that he cannot establish a new cabinet after talks with his political rival Benny Gantz over forming a coalition broke down.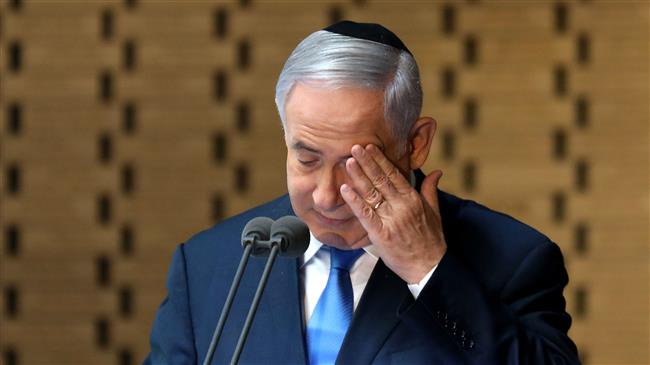 Netanyahu, who heads the right-wing Likud party, failed to secure a majority coalition in the Israeli parliament following a general election in September.
The office of Israel's President Reuven Rivlin said on Monday that Netanyahu had announced he would be "returning the mandate" to form the cabinet to the president due to inability in doing so.
Netanyahu also made the announcement in a video posted on his official Facebook page.
The Israeli premier made the announcement two days before his final deadline to present a coalition.
Rivlin said in response to Netanyahu that he would hold consultations with various political parties and task Gantz with the job of establishing a new cabinet.
Gantz, a former Israeli military chief of staff, will now have 28 days to try to form a coalition or risk another election being called.
Gantz' Blue and White party said in a statement it was "determined to form a liberal unity government."
Gantz has laid out no clear path to a majority, and if he failed to do so, it would almost certainly lead to another general election.
If Israelis go to the polls again, it would be the third time in a year after two inconclusive election results pushed the regime into a political crisis.