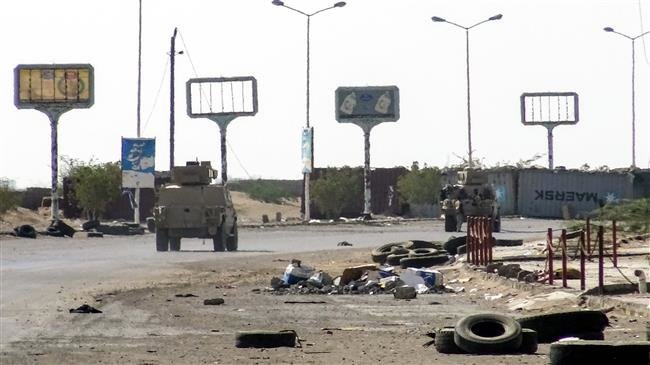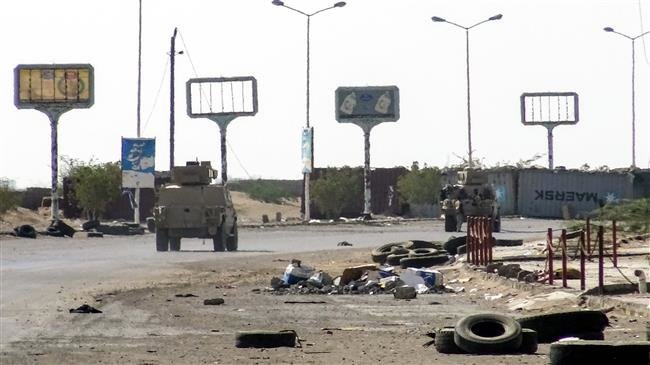 The Saudi-led coalition and allied militants have resumed attacks on Yemen's strategic port city of Hudaydah amid United Nations efforts to bring an end to Riyadh's devastating war on the country.
Saudi warplanes carried out more than 10 airstrikes on Hudaydah late on Monday, residents were cited as saying by Reuters.
They said that intense fighting had broken out between militants loyal to former Saudi-backed president, Abd Rabbuh Mansur Hadi, and fighters of the Houth Ansarullah movement, which both runs state affairs and defends the country against the Riyadh-led aggression.
The locals also said fierce battles could be heard on the edges of the city.
"The fighting is escalating and we can clearly hear machine guns and mortar fire. This is one of the worst nights we have experienced," said Hudaydah resident Mustafa Abdo.
Saudi-backed militiamen and foreign mercenaries had last week been "ordered" to halt their offensive aimed at taking the Red Sea port city from the Ansarullah fighters amid growing international pressure on the Saudi regime to end the war.
The Monday attacks followed a draft UN Security Council resolution that urges an immediate truce in Hudaydah. The UK-drafted resolution sets a two-week deadline for removing all barriers to humanitarian aid.
Yemen's Houthi Ansarullah movement backed the UN's peace bid on Sunday and announced it was halting its counterstrikes as a goodwill measure to speed up the process.
The movement also said it was ready for a broader ceasefire if "the Saudi-led coalition wants peace."
The UN welcomed the decision and called on all warring sides to show restraint to pave the way for talks.
Yemen's popular Houthi Ansarullah movement, which has been defending the nation against a Saudi Arabian-led war, says it is halting its counterstrikes as a goodwill measure to speed up "peace" process.
In recent days, the military coalition led by the Saudi regime and militia groups loyal to Hadi have intensified their attacks on Hudaydah, which is seen as the main entry point for food imports and aid relief needed by millions in the war-torn country.
The Hudaydah offensive has sparked concerns over its impact on the civilian population as well as on humanitarian aid operations.
Saudi Arabia and a number of its regional allies launched the devastating campaign against Yemen in March 2015, with the aim of bringing the government of Hadi back to power.
According to a new report by the Armed Conflict Location and Event Data Project (ACLED), a nonprofit conflict-research organization, the Saudi-led war has so far claimed the lives of around 56,000 Yemenis.