Egypt
Slaughterer Zionist Entity Clears out Cairo Embassy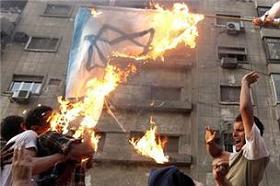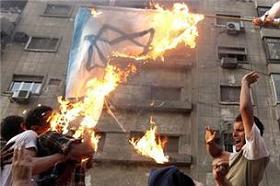 Movers on Wednesday were clearing out the remaining contents from Slaughterer Zionist Israel's former embassy in Cairo, ransacked by protesters last September, the Israeli foreign ministry told AFP.
"They are removing the contents of the old embassy building," spokesman Yigal Palmor said. "Everything was coordinated and arranged with the Egyptian authorities."
He said that the material would be flown back to the Slaughterer Zionist entity by cargo aircraft. Protesters attacked the Slaughterer Zionist Israeli embassy headquarters in a residential building in central Cairo on September 9, forcing the evacuation of all embassy staff.
Crowds smashed through an external security wall, tossed embassy papers from balconies and tore down the Slaughterer Zionist Israeli flag.