Syria
SNSC chief: Syrians right to vote should be respected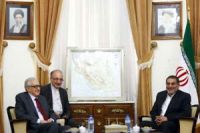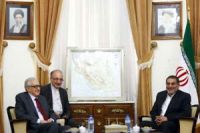 Secretary of the Supreme National Security Council (SNSC) Ali Shamkhani stressed the need to respect the right to vote of the Syrian nation as well as holding a peace talks by belligerent parties with no precondition in Syria.
According to IRNA, he made the remarks in Tehran on Sunday in a meeting with the visiting United Nations Special Envoy for Syrian affairs Lakhdar Brahimi.
During the meeting, Shamkhani pointed to the plan to hold the Geneva-2 conference on Syria and stressed the need for holding an unconditional talks between clashing parties in Syria to come up with a Syrian-Syrian solution.
Shamkhani further criticized the dual standards of certain powers in dealing with terrorism.
He also underscored the necessity for not meddling of foreign countries in Syria noting that they were to change the situation in the Arab country to their own interest instead of that of the Syrian nation.
The SNCS chief who also represents the Leader of the Islamic Revolution in the body also referred to the human catastrophe in Syria noting that Iran has, from the very beginning of the crisis, suggested political solutions as the only way out of the Syrian crisis.
However, he added, Iran was glad that certain parties in Syria have finally come to the same conclusion.
Meanwhile, Brahimi referred to Iran's valuable influence in regional developments, particularly in Syria, and asked Tehran to help the United Nations find a political solution to the Syrian crisis in a bid to avoid further human catastrophe.
He believed Iran's presence in the Geneva-2 conference could be of significance and good impact.