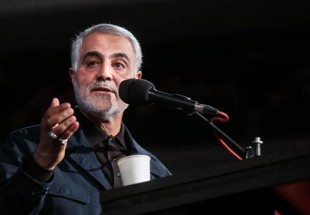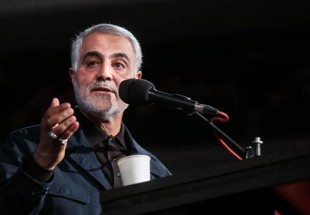 "Islamic Republic's fully back Palestinian resistance movements," stressed Major General Qassem Soleimani, commander of the Islamic Revolution Guards Corps' Quds Force.
Soleimani made the remarks in a phone call on Monday with commanders of Hamas' military wing, Ezzeddin al-Qassam Brigades, which has been defending the blockaded Gaza Strip against Israel's acts of aggression, and the Islamic Jihad resistance movement.
The senior IRGC commander also urged all resistance movements in the region to boost their readiness to defend the al-Aqsa Mosque.
Soleimani's comments came amid simmering tensions in the occupied territories of Palestine following a decision by US President Donald Trump to formally recognize Jerusalem al-Quds as the capital of Israel.
Trump on Wednesday defied global warnings and said Washington formally recognized Jerusalem al-Quds as the "capital" of Israel and would begin the process of moving its embassy to the occupied city, breaking with decades of American policy.
The announcement prompted harsh international warnings that it would bring more chaos to the Middle East region. Several protests have been held in many countries over the past days against the US and Israel.
Earlier on Monday, Iranian President Hassan Rouhani held talked on phone with Ismail Haniyeh, the leader of Palestinian resistance movement Hamas, saying that unity and resistance of the oppressed Palestinian people and other Muslim nations would definitely lead to the failure of the US-Zionist plan to recognize Jerusalem al-Quds as Israel's "capital."