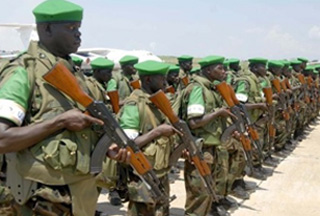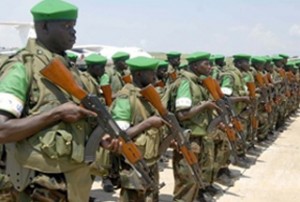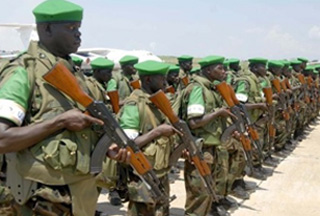 Somalia's president is in neighboring Djibouti to appeal for the deployment of Djiboutian troops to his war-torn nation as part of the UN-backed peacekeeping mission.
President Sheikh Sharif Sheikh Ahmed met his Djiboutian counterpart Ismail Omar Guelleh on Wednesday to discuss the troops' deployment, a Press TV correspondent quoted a spokesman for the presidential office as saying.
Djibouti, which hosted the Somali reconciliation talks that saw the election of Ahmed last year, has recently pledged to send a contingent of its troops to participate in the African Union peacekeeping mission in Somalia (AMISOM), heeding to Ahmed's June appeal for troops from neighboring countries such as Kenya, Ethiopia, Djibouti and Yemen to shore up his fragile administration from the powerful insurgency.
AU has more than 5,000-strong peacekeeping troops from Uganda and Burundi who are helping the weak but internationally recognized government fight against militant groups in the restive capital Mogadishu.
Meanwhile, heavy fighting in the Somali capital between rebel fighters and Somali forces backed by AU troops left at least than six civilians killed and scores injured.
Eyewitnesses say heavily armed al-Shabaab fighters carried out the attacks on AU and government troops in the capital's northern neighborhoods of Hodon and Hawlwadag
Several mortar shells fired by both sides slammed the busy Mogadishu seaport, killing at least 2 workers and injuring seven others.