Yemen
Some militants blow up oil pipeline in Yemen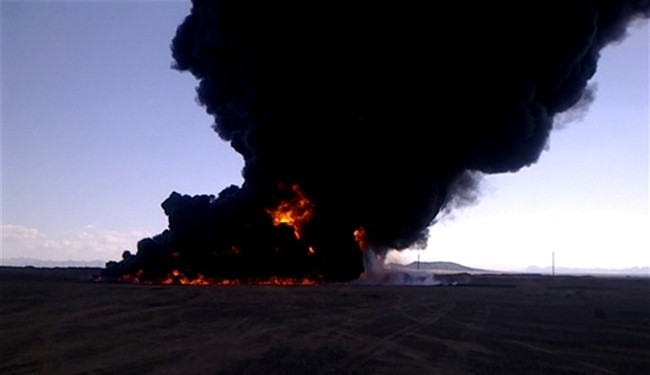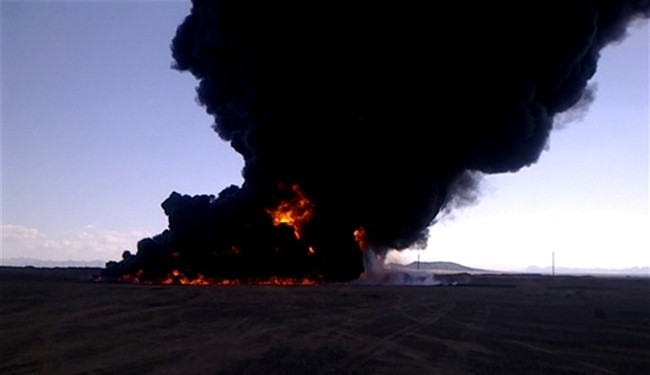 Saboteurs have blown up an oil pipeline in southern Yemen that pumps crude oil to an export terminal on the Gulf of Aden, a security official says.
"Armed terrorists of the al-Qaeda group placed a roadside bomb under the pipeline in al-Saed region on Shabwa's eastern outskirts. The huge explosion caused a leak in the pipeline," a local government source, who spoke on condition of anonymity, said on Monday.
The attack halted oil shipments from the Iyadh fields, reports say.
The pipeline, operated by a Korean firm, pumps 8,000 barrels per day to al-Nashima, near the Balhaf terminal.
Impoverished Yemen produced an average of 170,000 bpd in 2011, down from an estimated 259,000 bpd in 2010, due to strikes, attacks on pipelines, and the evacuation of foreign staff, according to the Energy Information Administration.
The country's production dropped from 440,000 bpd in 2001, due to a lack of sufficient new investment in exploration and inadequate maintenance of facilities, according to the EIA.
Attacks on oil and gas pipelines in Yemen are frequent, and according to official figures, lost production due to the attacks cost the government more than $1 billion in 2012.
Yemen, which relies on crude exports to finance up to 70 percent of budget spending, has suffered frequent bombings of its main pipeline since an anti-government uprising broke out in 2011.
Yemen – which borders Saudi Arabia, the world's top oil exporter – is struggling to reassert state control over the country against one of the most active franchises of the al-Qaeda network founded by Osama bin Laden. It is also facing a growing secessionist movement in the south.