Africa
South African police fire tear gas at student protesters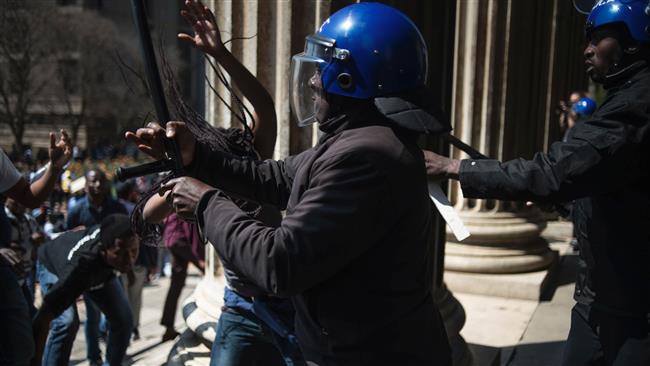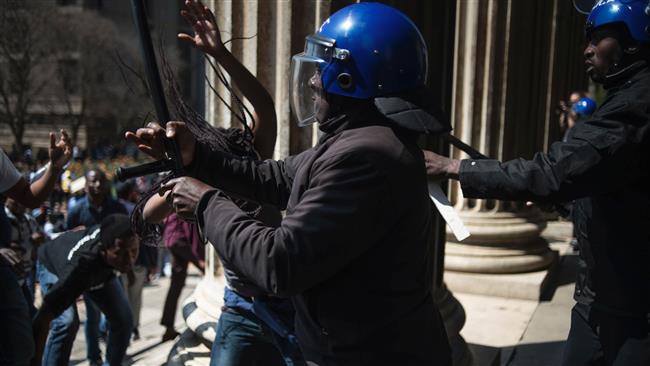 South African police have fired tear gas at students protesting against a government decision to increase tuition fees for 2017.
The police used tear gas and stun grenades to disperse students marching near the University of the Witwatersrand, also known as "Wits," in downtown Johannesburg on Wednesday.
Nompendulo Mkhatshwa, the outgoing president of the student representative council at the university, said despite the police response, some students still "want to fight back because they don't understand why they have been attacked in the first place."
The protests flared up in South Africa after the government on Monday proposed an eight-percent hike – above the country's inflation rate of six percent – in the 2017 tuition fees.
The Wednesday protest also prompted at least three universities, including Wits, to suspend their classes.
Classes were suspended at the University of Pretoria's main campus while the University of Cape Town temporarily shut its doors on Wednesday for the second consecutive day.
South Africa has been the scene of regular student protests that often call for lower tuition fees and more housing for students.
Earlier, police spokesman, Lungelo Dlamini, said police had freed 31 students detained at Wits on Tuesday.
The government and the main opposition party have accused protesters of turning campuses into battlefields and ruining university property.
Last year, similar protests forced President Jacob Zuma to cancel fee increases for 2016, but university authorities say another freeze for the coming year could damage their academic programs.